Yankee Doodle Dead by Carolyn Hart
Author:Carolyn Hart , Date: October 18, 2020 ,Views: 8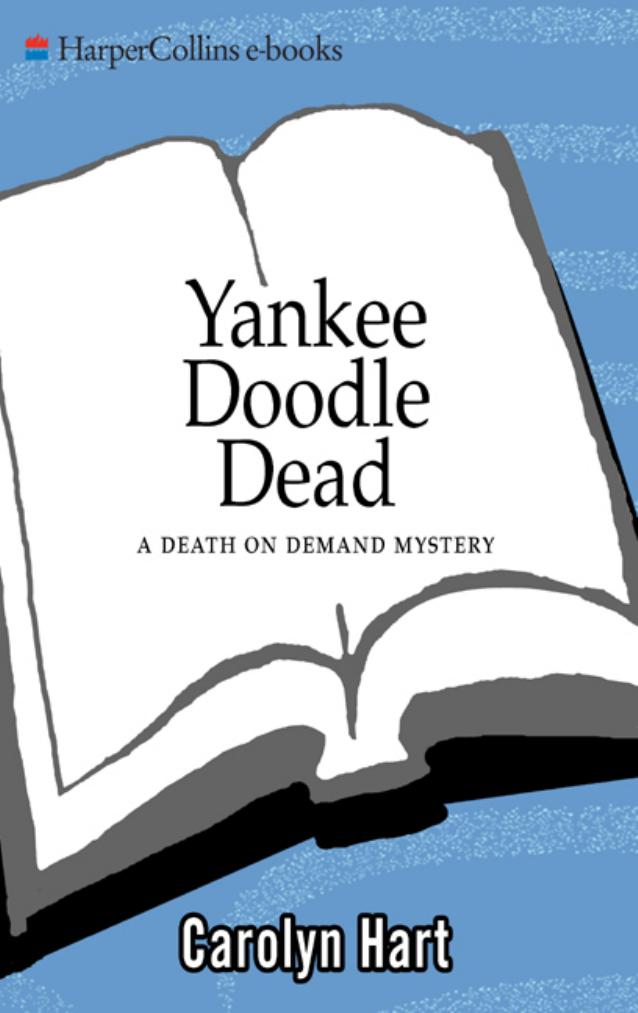 Author:Carolyn Hart
Language: eng
Format: epub
ISBN: 9780061844966
Publisher: HarperCollins



Annie put the cash box on the coffee bar. Agatha watched with glittering green eyes as Annie opened a small can of cat food. "I know I'm late. I'm sorry."
Agatha's tail switched. Annie put down the bowl and narrowly escaped Agatha's incisors. Nobody, especially not Annie, ever claimed Agatha was a good sport. That was a human concept. If Agatha could do a Speak Your Mind (which she probably often did in sharp meows), it might go something like this: Sorry, my ass. I can't eat sorry.
Annie carried the cash box to the front, wrote a note asking Ingrid to tally the receipts. Added a P.S.: "Got to run errands. Will you see if Duane can give you a hand if it gets busy?"
Thunder rumbled. The query was nothing more than window dressing, but Ingrid was good-humored and easygoing and wouldn't hold it against Annie that the store would be wall-to-wall with disconsolate vacationers if the storm materialized.
Annie lugged in the boxes from the festival, almost all less than a third full. She flipped open the lid to the first box, picked up Janet Laurence's Death at the Table and was immediately hungry. And there was Camilla Crespi's The Trouble with a Small Raise. Annie felt an urgent pang for pasta.
She put the books back, slammed the lid shut. Okay, she was dithering. That was an interesting word. Did Mr. Dithers or the word come first? If the comic strip character, it certainly proved the power of mass entertainment on culture.
A scarlet flash of pain emanated from her ankle. She didn't even look down. "Agatha, I said I was sorry." In the bathroom, she found an old bottle of antiseptic and dribbled some on the bright red welt.
She owed Agatha. Seeing blood reminded her forcibly and unpleasantly of Hatch crumpled to the floor of the stage and the thin, straggling rivulets of bright blood. So she couldn't evade. She couldn't piddle around putting up books, thinking of word origins. But she wished for the dispassion of most fictional sleuths, the emotional detachment of a detective exploring the lives of suspects who meant nothing to them. Stuart Palmer's take-charge Hildegarde Withers treated both police and criminals like recalcitrant schoolchildren. Phoebe Atwood Taylor's Asey Mayo observed everyone with a sardonic and critical eye, including his cousin Jennie and her husband, Syl.
Maybe it was time for another self-directed Speak Your Mind: Annie, bite the bullet.
Not that she was eager to think about bullets. Bullets reminded her of the chief's chilling announcement: "And it damn sure wasn't a redneck cowboy shooting off a gun to celebrate the Fourth…Two bullets within an inch of each other in the aorta."
Annie slapped on a Band-Aid. On her way to the back door, she paused to pick up Agatha and nuzzle the back of her neck. "Henny's a hell of a shot," she told the elegant cat, who responded by writhing free.
Outside, Annie took a look at the sky and retrieved her umbrella from the backseat floor. She climbed into her car, then sat with her hands clenched on the wheel.
Download


Copyright Disclaimer:
This site does not store any files on its server. We only index and link to content provided by other sites. Please contact the content providers to delete copyright contents if any and email us, we'll remove relevant links or contents immediately.