Thankful For Her by Alexa Riley
Author:Alexa Riley [Riley, Alexa] , Date: November 24, 2017 ,Views: 4680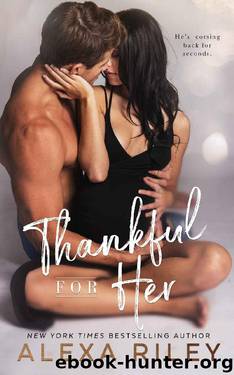 Author:Alexa Riley [Riley, Alexa]
Language: eng
Format: epub
Published: 2017-11-18T18:30:00+00:00



"Sir, we need to go over your schedule." I look up to see Peggy standing in front of my desk. She looks pissy.
"Cancel whatever it is," I tell her, looking back at my computer. I'm staring at a blank screen. I don't know how long I've been sitting here doing this.
"Sir," she barks with frustration.
Everyone is annoyed with me, but I can't seem to give a flying fuck. I look up at her and give her a hard look. I'm normally pretty laid-back, but I feel strung out. At any moment I feel like I might lose it. I clench my hands into fists and try to cool the anger that's been festering within me.
"Peggy." I growl her name. Her face softens a bit and she moves around the desk toward me.
"You're so tense lately. Maybe I should help you with that." I push back from my chair as she gets closer. I stand right at the moment she drops to her knees in front of me. She reaches for me and I jump back, nearly tripping over my chair in my haste to get away from her.
"I'm seeing someone," I snap at her.
The anger I was feeling moments ago comes back full force. My dream girl flashes through my mind. Her body against mine. Her hair falling all around me as I make love to her. She took away all the sadness and made me feel whole once again. She made me feel like I had found home again.
"You're hard," she says, breaking my reverie.
I look down at Peggy on her knees. Her eyes are on the outline of my cock, which is hard but only because I was just thinking about my dream girl. I put my hands over myself and glare down at her. My hard-on quickly slips away.
"Not for you. Get the fuck up."
My hands start to shake. She stumbles to her feet and runs out of my office as fast as she can in heels. I pick up the glass paperweight on my desk and throw it as hard as I can. It hits the mirror across the room and glass shatters everywhere.
"Fuck." I run my hands through my hair. Her face flashes through my mind again. I swear I can feel her hands on my chest. Her fingers digging into me as I grip her hips. The smell of sex filling the air.
It's too real.
I pick up my phone and text my driver. When I walk out of my office I see Peggy sitting at her desk typing away.
"You're fired," I tell her as I move toward the elevator and hit the button for the lobby. I step on and look at her. She's staring at me, anger clear on her face. "Security is on the way."
The doors slide closed and I email human resources about her no longer fitting with the company. I also tell them to change her passwords and make sure she gets out of the building within the next twenty minutes.
Download


Copyright Disclaimer:
This site does not store any files on its server. We only index and link to content provided by other sites. Please contact the content providers to delete copyright contents if any and email us, we'll remove relevant links or contents immediately.