The 3rd Cycle of the Betrayed Series Collection: Extremely Controversial Historical Thrillers (Betrayed Series Boxed set) by McCray Carolyn
Author:McCray, Carolyn [McCray, Carolyn] , Date: November 12, 2015 ,Views: 12667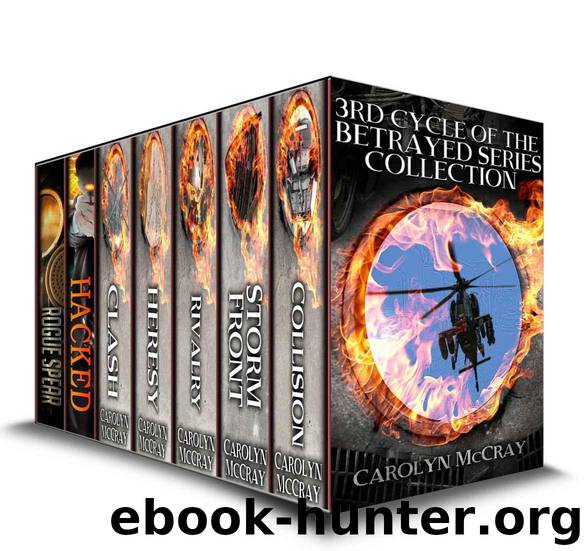 Author:McCray, Carolyn [McCray, Carolyn]
Language: eng
Format: azw3
Tags: international thriller
Publisher: Off Our Meds Multimedia, LLC
Published: 2014-07-29T16:00:00+00:00



CHAPTER 6
"You are still here?" a voice asked.
Bunny wiped her eyes. Apparently she still was at the museum.
She'd done an all-nighter, just like she had in college, only her body wasn't like it was in college. It ached in a way she had never known before her stay in the hospital. And she'd spent the night cross-legged on the floor!
"I guess so," Bunny said. "Once I get into an ancient civilization, it's hard for me to pull out."
Rojas offered his hand and pulled her up. There were only a few inches between them. He smelled of aftershave and strong coffee. Bunny didn't want to think about what she smelled like.
Backing away, she wiped her curls back with her arm. "Sorry, I hope I didn't set off any alarms."
"No you didn't," Rojas said. "But it does make me worried about our security team. I have always thought they did not patrol my office much."
Bunny grinned, moving even further from the dark professor. He seriously sizzled, even in the morning. The sound of bacon on the grill filled her ears.
"I should be going," Bunny said.
"Ah, but did you learn what you needed to learn?" Rojas asked.
"Not really," Bunny had to admit. She knew nearly everything about the Wari culture that predated the Incans by several hundred years. While the Wari established itself around 500 AD, the culture greatly predated that era and was said to extend back to pre-Christian times.
So, yes, she knew a lot more about pre-Columbian Peru, but how it related to the Brotherhood, not so much.
Rojas nodded. "I know a shaman who might be able to shed some light on the issue. He lives with his daughter, who owns a restaurant on H Street."
Bunny looked down at herself. She was in no shape to show her face on H Street. "Lunch then?"
Rojas smiled. Did he think this was some kind of date? More importantly did she want it to be a date?
"Noon it is," the professor said as he walked out of his office.
Bunny groaned rising, limping for a few steps on her bad leg.
This was just a working lunch. Nothing to worry about.
Which is what she always said just before her romantic misadventures.
No, she wasn't going to screw this up again. She pulled out her phone and dialed Davidson. It went straight to voice mail.
He must be on assignment.
Just like she was, damn it. For once she wasn't going to disappoint Davidson.
But now she had to get home and cleaned up for her non-date.
* * *
Rebecca watched as the men changed into their Peruvian army gear. It wasn't all that much different than American military uniforms. Just the red and gold braid at the shoulder differentiated it from the olive green American counterpart.
She smoothed her husband's shoulder crease. "You are going to be careful aren't you?"
Brandt just kissed her on the forehead. "It should be over pretty quickly."
Rebecca knew the plan. They had told the Brotherhood that they were delivering the necklace, which of course they weren't.
Once inside they would overwhelm the enemy and extract the hostages.
Download


Copyright Disclaimer:
This site does not store any files on its server. We only index and link to content provided by other sites. Please contact the content providers to delete copyright contents if any and email us, we'll remove relevant links or contents immediately.