Work 2.0. Nowhere to hide by Prokurat Sergiusz
Author:Prokurat, Sergiusz [Prokurat, Sergiusz] , Date: May 4, 2021 ,Views: 17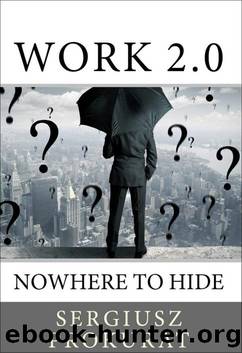 Author:Prokurat, Sergiusz [Prokurat, Sergiusz]
Language: eng
Format: epub
Published: 2013-11-20T05:00:00+00:00



Chapter 5: An Individual in the World of Work 2.0
How does someone navigate this complicated and technologically nuanced World 2.0? Not everyone finds it easy. Peter Fingarin, in his report entitled "Work 2.0", finds that in this thicket of information we receive we actually experience Information Overload 2.0, which prevents many people from keeping up with assimilating new data (Fingar, 2007b). Fingar points out in his analysis that office workers often spend 2 hours a day reading and sorting email they receive in their inbox. The quest for effectiveness deprives us of time for many things. The constant rush crowds out personal time and space in World 2.0 and this time can no longer be dedicated to interpersonal relations, deep thinking, or even a rational plan for our career. This issue has also been taken up by philosophers. Once, Zygmunt Bauman notes in his book "The Art of Life",a career choice was about accepting a template of sorts which was a one-off choice for one's 'life project', which then had to be fulfilled (Bauman, 2008). Yet today you have to be flexible and chase the ever-changing reality. Despite increasing possibilities of self-expression and choosing your career path we paradoxically run a greater risk of 'navigating in the mist' –organisations offer workers far less support than they did a few decades ago. Nevertheless, this is good news for the best, who can enjoy unprecedented transparency of the labour market and, in effect, a greater chance of branding themselves as an accomplished specialist, dedicated worker or expert.
Individuals unaware of the transformation will struggle in the world of Work 2.0. A time of permanent unemployment for a large part of society is approaching--a time when working will become a luxury, especially in the case of well-paid jobs. Many organisations now use contractors or agencies, and as a result these new employees make considerably less than they did before and they usually don't enjoy any benefits. That's just the shape of the new world economy.
People have less money in their pockets. Working family members who make up an average household make less in real terms than they did in 2000 as shown by Figure 9. While the US economy has recovered modestly since the financial crisis, median household income is still below its pre-2007 level. For workers this means adhering to the idea of 'more for less'! If we also factor in rising unemployment the conclusions are evident – the individual's lot isn't easy in the world of Work 2.0. This is a problem not only specific to the US but present all around the world. For example in England, real wages have fallen in 36 of the 37 months since May 2010, according to new data from June 2013. The figures suggest the average worker will have lost the equivalent of £6,660 in that period (Pickard and Rigby, 2013). In the document "Global Employment Trends 2013" the ILO points out that in the fifth year of the crisis there isn't much positive information (Ernst et al.
Download


Copyright Disclaimer:
This site does not store any files on its server. We only index and link to content provided by other sites. Please contact the content providers to delete copyright contents if any and email us, we'll remove relevant links or contents immediately.