Waltzing with the Wallflower Trilogy by Leah Sanders
Author:Leah Sanders , Date: February 7, 2023 ,Views: 126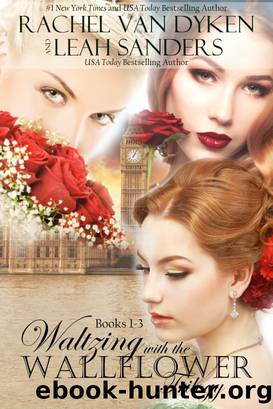 Author:Leah Sanders
Language: eng
Format: epub
Tags: london, twins, bet, trilogy, wager, pygmalion, rakes
Publisher: Leah Sanders



CHAPTER TWELVE
Foiled Again
The look on the viscount's face was enough to curdle her resolve. Their arrangement wasn't working the way it was supposed to be. And the more distance she could put between them the better. For the more that he pursued her, the more she wanted him to — the more she wanted to give in to everything she swore she would never give in to. Bridget wouldn't be her mother. She refused it with the very core of her being.
But now that she had experienced the taste of Anthony's lips, the feel of his tongue as it tasted the sweetness of her mouth — she knew she was done for, that to put distance between them would be futile.
For her heart was already engaged.
It beat for him.
And she wanted to hate him for it.
But all she could think about as she grabbed the jacket from the nearby chair and slipped it on, was that no amount of distance would be enough to shield her heart from the rogue.
"Bridget, are you sure you don't want a rematch?" Anthony said behind her. How the devil did he sneak up on her so fast?
Anthony's arms came around her from behind as he fumbled with pulling the jacket closer around her body. "If you don't mind, I'd feel much better if we hired a hack for our return, wouldn't want anyone seeing you in your current state of—"
"Embarrassment?"
Anthony's arms froze around her. "I was going to say in your current state of perfection. What woman would be embarrassed about the fact that she can best a man with a sword, her wit, and her intelligence, I ask? Let me just call for one, I'll not be a minute."
With that he left her, and with him went all of her resolve. The rake had won, for her lips yearned for his kiss almost as much as her heart yearned for his approval.
Moments later, Bridget found herself tucked inside a hackney carriage dangerously close to Lord Maddox. And for once he appeared nervous. He who was normally brimming with an aggravating confidence sat fingering the seam of his breeches, seeming at a loss for words.
A heavy blanket of silence encompassed them as the moment stretched out. The hack jerked into motion, breaking the uneasy stillness.
A flutter of nerves wreaked havoc in Bridget's stomach when Anthony cleared his throat.
"This arrangement isn't working," he finally said.
"That rather seems to be your doing, my lord."
"Anthony."
"Anthony. Sorry," she answered. "You seem dreadfully incapable of keeping your end of the bargain." Of course, truth be told, she so wasn't anxious for him to observe the terms of their agreement anymore.
His gaze never left his hands as she spoke.
"I'm losing, you know."
Bridget scrutinized him for a moment. How could that be possible? She had acted her part at all times, pretending to be utterly besotted with him when under the eye of his brother.
Pretending. That was an amusing thought.
"Your bet? How is that possible? Other than your complete inability to keep your hands—" She stopped because his hands had suddenly captured hers.
Download


Copyright Disclaimer:
This site does not store any files on its server. We only index and link to content provided by other sites. Please contact the content providers to delete copyright contents if any and email us, we'll remove relevant links or contents immediately.