Whom Shall I Kiss... An Earl, A Marquess, or A Duke?: A Steamy Historical Regency Romance (Tricking the Scoundrels Series Book 1) by Laura A. Barnes
Author:Laura A. Barnes [Barnes, Laura A.] , Date: May 27, 2023 ,Views: 211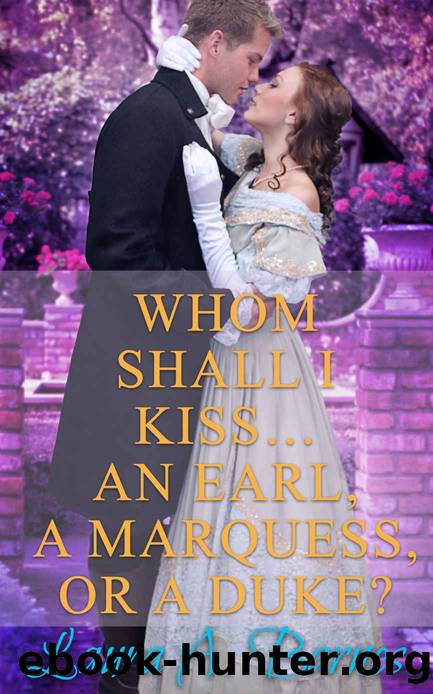 Author:Laura A. Barnes [Barnes, Laura A.]
Language: eng
Format: epub
Tags: historical romance regency, historical romance sexy, steamy historical romance, historical romance, historical romance England, romance, duke, marquess, earl, courtship, sweet romance, happily ever after, aristocracy, tricking the scoundrels, i shall love the earl, the scoundrel's wager, the forgiven scoundrel, whom shall I kiss... an earl, a marquess, or a duke, whom shall i marry... an earl or a duke, sweet historical romance, sweet regency romance, historical romantic comedy, regency romantic comedy, romancing the spies, rescued by the captain, rescued by the spy, rescued by the scot, how the lady charmed the marquess, how the earl fell for his countess, matchmaking madness
Publisher: Laura A. Barnes
Published: 2019-02-24T23:00:00+00:00



Chapter Eight
Sidney climbed the steps to her room with her head bent in deep thought. She tried to pull her thoughts together on how to proceed with her research. She already came to the conclusion that she was in way over her head. This afternoon she would list her data into the correct columns and begin to write her paper. After a few days, she would have her outcome. Her footsteps shuffled along the hallway and through the doorway to her room. She shut the door behind her to inform her family and Rose that she didn't wish to be disturbed.
When she raised her head and turned around, she gasped. Wildeburg lay atop her counterpane, with his hands relaxed behind his head. His wicked grin spoke of his true intentions. She gulped as she noted his long form spread across her bed in leisure. He discarded his jacket and a waistcoat on her chaise. He loosened his cravat and left the first few buttons of his shirt open for her to ogle. Lord Wildeburg was a very fine specimen of a man. He rolled on his side with his hand propping his head while he patted the spot next to him.
Her head shook back and forth, since she was unable to utter a single sentence. This was every girl's dream, Noah Wildeburg on their bed. He laughed, then crooked his finger as he tempted her to come closer. As if under his spell, her legs moved toward the bed while her mind screamed, NO, NO, NO! It would seem her body had a desire of its own. When she reached him, he lifted his palm, and she slid her hand into his. With a small tug, she soon landed in his arms. Wilde never spoke a word, only lowered his mouth to hers for a kiss.
The kiss, while gentle, held a pressure for release. Each nip and brush of his tongue begged more from her. When she responded as eagerly as him, the pressure of release poured their emotions into the passion. Their kisses became bolder, hungrier for more. Before long, his hands wrapped in her hair, and he drew her closer. The stroke of his tongue guided her to abandon proper restraint. She ran her fingers through his hair, luxuriating in the full honey locks. When his lips moved to her neck, mumbling incoherent words, she pulled his head closer. An ache overcame her body, one that only he could ease. She needed to touch him as he caressed her. When her fingers began unbuttoning the rest of his shirt, he pulled back, enclosing her hand in his. He rested his forehead against hers, breathing deeply. As he stared into her eyes, Sidney watched him try to regain control. She shook her head no.
He closed his eyes as he gathered her closer and held her to his chest as he brought his body under control. Wilde tucked her head into his shoulder, holding her trembling form. She was an enticing minx.
Download


Copyright Disclaimer:
This site does not store any files on its server. We only index and link to content provided by other sites. Please contact the content providers to delete copyright contents if any and email us, we'll remove relevant links or contents immediately.