The Eye of the Falcon: the al-Andalus trilogy, #2 by JOAN FALLON
Author:JOAN FALLON , Date: February 17, 2023 ,Views: 270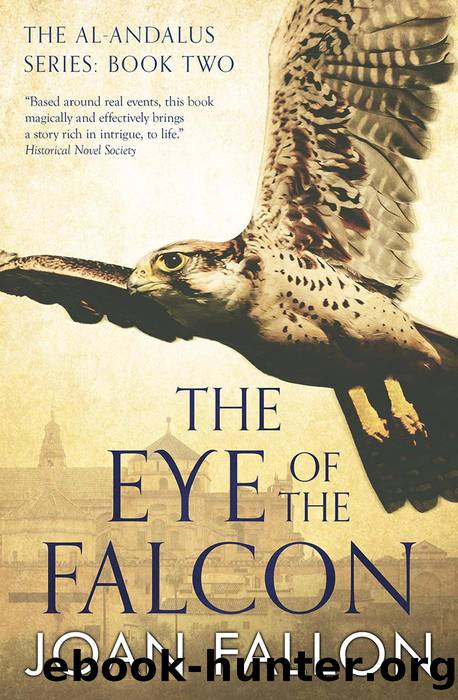 Author:JOAN FALLON
Language: eng
Format: epub
Tags: adventure, romance, cultural heritage, medieval, Moorish Spain, Córdoba, al-Andalus, Andalusia, Mediterranean culture, murder, intrigue, political conspiracy, political thriller
Publisher: Scott Publishing
Published: 2021-04-17T00:00:00+00:00



Chapter 15
Subh was worried and angry. How had this attack on her son happened? What had al-Jundi been thinking of, to let the Khalifa go out on a hunt, with only forty men to protect him? She had sent for him. She wanted to hear his side of the story. All she could get from al-Hisham was a load of gibberish about his damn hawk. Who was behind it? Her immediate thoughts were al-Mansur, but he was away on the jihad against the Christians. She sighed. Her feelings for this man were becoming more and more complicated. She needed him in more ways than one; her position and the safety of her son depended on his protection and her love for him was turning into an obsession, but still she did not trust him, not completely. Each day he became more and more powerful and certainly more popular. His campaigns brought new riches to the country. He had convinced the people that he was the man who would save them from the Infidel, despite the fact that the country had lived in peace with the Christians on their borders for as long as she could remember. He had convinced them that he was a pious man who followed the laws of Islam religiously. He had convinced both them and her that he was doing all this for the Khalifa and that one day her son would become the sole ruler. This was what she hoped but, every so often, doubts about al-Mansur's true ambitions made her wonder. He was no longer the quiet, young man who had come into her bed filled with gratitude for her help and avowing undying love for her; he was more confident now, more arrogant, more powerful and, what still caused her breast to burn with jealousy, he was married to a beautiful young girl.
'Sayyida, the soldier al-Jundi is here to speak with you,' said Afra, taking the opportunity to remove the uneaten bowl of fruit from the table by Subh's side.
'Send him in.'
Now here was a man she thought she could trust. He had been by her husband's side for many years. She had been so sure he would take care of al-Hisham for her. She was disappointed.
'Your Highness, you wanted to speak to me?' al-Jundi said, bowing low before her.
'Yes. I want you to tell me how it was possible that an unknown assassin managed to shoot an arrow at my son, while he was on a hunting trip.'
'I am profoundly upset about what happened, Sayyida. My men are searching for the assassin as we speak. He will not escape. We intend to catch him alive and to find out who is behind this outrageous assault. An attack on the Khalifa is an attack on all of us.'
'So you think this was planned? Not just a random attempt on my son's life?'
'There was nothing random about it, Sayyida. It was most definitely planned. If the attacker was a stranger to the city, someone had to have told him about the Khalifa's movements.
Download


Copyright Disclaimer:
This site does not store any files on its server. We only index and link to content provided by other sites. Please contact the content providers to delete copyright contents if any and email us, we'll remove relevant links or contents immediately.