French Leave by Sherri Cobb South
Author:Sherri Cobb South [South, Sherri Cobb] , Date: March 24, 2014 ,Views: 180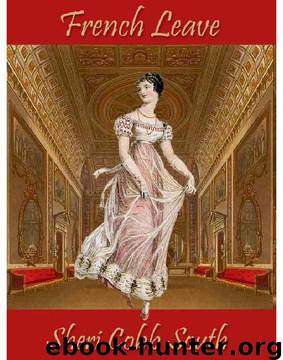 Author:Sherri Cobb South [South, Sherri Cobb]
Language: eng
Format: epub
Tags: (¯`'•.¸//(*_*)\\¸.•'´¯)
Published: 0101-01-01T00:00:00+00:00



Alas, Lord Waverly's trials were only beginning. He discovered this fact three days later, when he and Lisette were promised to attend a ball at the imposing residence of Lord Langerfield. As this edifice was some few miles removed from Town and possessed the luxury of a small garden in the rear adorned with a Grecian temple, it made an ideal location for intrigues of an amorous nature. It was, therefore, not unnatural that Lord Waverly paced the hall like a caged animal, impatient for his wife to complete her toilette so that they might be on their way.
When at last a slight sound drew his gaze upward, however, all thoughts of Lady Helen Brundy flew from his mind. Descending the staircase was a vision in palest blue, a color Waverly had previously thought flattering only to the angelically fair. He now revised his opinion. Lisette, though clearly no angel, was far more alluring than any heavenly being. A pale blue ribbon had been woven through her cropped curls, banishing forever the image of "Cousin Luc." The hem of her gown was fashionably short, revealing not only her small feet encased in blue kid dancing slippers, but also a pair of neat ankles in white silk stockings. Her corsage was more daring than any she had previously worn, exposing the swell of her small, high bosom. Lord Waverly's mouth went dry.
"Milord?" said Lisette, rendered uncomfortable by his close scrutiny and long silence.
When the earl spoke, however, it was not to his wife, but to her dresser, following at a discreet distance with Lisette's velvet cloak.
"What—" Hearing his voice come out as little more than a squeak, Waverly cleared his throat and tried again. "What have you done to her?"
"I trust I have done what I was hired to do, my lord," Winters said placidly. "Turn her out in a manner befitting her station."
Waverly waved a vague hand in the general vicinity of Lisette's white bosom. "This is hardly suitable for a schoolroom miss!"
"Very true, your lordship, but if you will forgive me for pointing out the obvious, my lady is not a schoolroom miss. She is a countess." Seeing that her employer could not dispute this home truth, she continued. "My lady should, of course, wear jewels, but she has none. Unless, perhaps, there are family pieces kept elsewhere?"
Waverly thought of a particularly fine set of sapphires which had been sold to keep his creditors at bay, and felt a momentary pang of regret for the licentious living which had robbed him of the opportunity to clasp them around Lisette's slender throat.
"No, no family pieces," he said brusquely. "If you're ready, Lisette, we'll be on our way."
Download


Copyright Disclaimer:
This site does not store any files on its server. We only index and link to content provided by other sites. Please contact the content providers to delete copyright contents if any and email us, we'll remove relevant links or contents immediately.