Wait for Me by Samantha Chase
Author:Samantha Chase [Chase, Samantha] , Date: March 24, 2014 ,Views: 513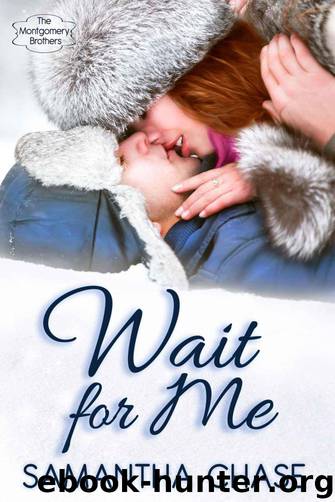 Author:Samantha Chase [Chase, Samantha]
Language: eng
Format: epub, mobi
Tags: Romance
Published: 2013-05-04T00:00:00+00:00



Chapter Nine
Something wasn't right. William Montgomery looked around his office and knew without a doubt that something most certainly was wrong. It was only ten a.m. and the tension in the office was enough to make him scream. His plan had been perfect; there was no way for anything to go wrong! One look at Emma, however, had told him that something was off and Lucas had pretty much scared anyone who had tried to talk to him.
He was just about to go in search of his son when Emma knocked on his door. "Emma! Come in!" he beamed, hoping to get one of her famous smiles out of her. She came to stand in front of him but her expression was fairly strained. "I take it you got the car this morning. No problems, right?"
"Oh, no, Sir. The car was waiting for me right on time. But, um, I was a little concerned that you sent me one of the company cars. I had thought that you would just get one from one of the rental companies in town."
"Why would I do that?"
"Well, you tend to only use the company cars for family. It's far too luxurious for me. I would have been more than happy with one of the economy cars from the rental agency."
"Emma, it's not a big deal. We have the cars and you needed one. There was no need to go through an agency."
She sighed. "I just…well, I'm not comfortable driving such an expensive car that's all."
William laughed. "I don't think you'll have a problem. In all of the years you've worked for us, you've never been in an accident; until I sent you out in dangerous conditions." His tone became serious. "I cannot apologize to you enough. I never meant to put you in harms way."
"I didn't think that you did it on purpose, Sir," she replied kindly. "It was an accident; no one's fault. But about the car…"
William waved her off. "It's one of the safest cars on the market. Please, I'd feel better knowing that at least for a short time, I'm protecting you while you drive."
Her expression remained wary and she was standing ramrod straight in front of his desk. William noticed the large white envelope in her hand. When Emma saw where his attention was at she spoke. "Oh, I forgot to give this to you earlier; it's the paperwork I was trying to get to you."
"Oh, right, right," he said distractedly as he took the envelope from her hands. William sat back and studied her. "Are you sure you're all right, Emma? Have you gone to a doctor to make sure that you're okay?"
She smiled sadly at him. Like father, like son. "No, I don't think that it's necessary. I feel fine."
"I know you'll think I'm just being crazy but I would really feel better if you went and had a check up. A head injury is nothing to take lightly."
"I'll see if I can get an appointment after work…"
"I'd feel much better if you went now.
Download


Copyright Disclaimer:
This site does not store any files on its server. We only index and link to content provided by other sites. Please contact the content providers to delete copyright contents if any and email us, we'll remove relevant links or contents immediately.