Deadline by Metsy Hingle
Author:Metsy Hingle , Date: October 29, 2022 ,Views: 202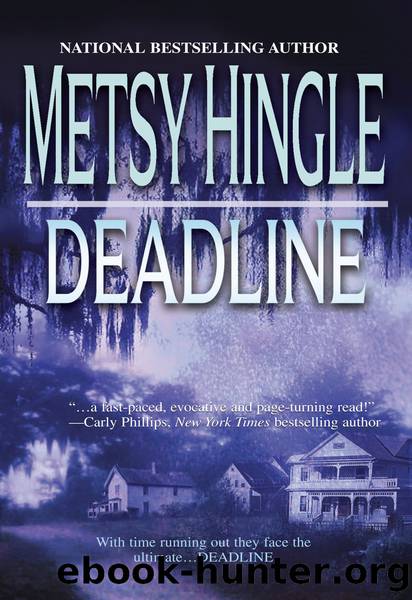 Author:Metsy Hingle
Language: eng
Format: epub
Publisher: MIRA Books
Published: 2013-10-14T16:00:00+00:00



Chapter Thirteen
For the next thirty-five minutes, Tess followed the Toyota. Traffic picked up as school let out and Tess found herself inching along behind school buses and mothers transporting their children home from school. When she got caught behind a yellow school bus at a red light, Tess thought she'd lost Ginger. Then she spied the Toyota waiting to turn at the next corner.
Once outside the city limits the traffic grew lighter and Tess stayed back several car lengths, hoping Ginger wouldn't spot her. The area grew more shabby, and the quality of the road deteriorated the farther they traveled from Grady. Tess was just beginning to wonder if perhaps Ginger had seen her and was leading her on a wild-goose chase, when the Toyota turned left onto a bumpy dirt road aptly named Lonesome Road. A battered sign on a crooked metal post that read Dead End had been splattered with green paint and stood like a drunken soldier amidst a scattering of pine trees that appeared to have suffered through a few storms. At the far end of the road, she could see the murky waters of a bayou.
With the cloud cover above, the dark bayou stretching out ahead and the trees growing thicker on either side of the road, Tess got an eerie feeling in the pit of her stomach. Suddenly, all kinds of crazy thoughts started racing through her head. She was in a strange and remote place. No one knew where she was. And the woman she had been following had not only been hostile toward her, she had deliberately sent an innocent man to prison. Who knew what she would be capable of if confronted? For all she knew, the woman might have a gun. She could be shot and thrown in the bayou and no one would ever be the wiser.
For the space of a heartbeat Tess considered turning around and simply confronting Ginger the next day at the restaurant. But what if the woman never went back to the restaurant? Suppose, to avoid a confrontation with her, she decided to take off for parts unknown? Tess thought of her father, remembered reading his letters. She couldn't risk letting her get away. Not without finding out why Ginger had lied at her father's trial.
Tess continued for what had to be the longest quarter of a mile she'd ever traveled, dodging potholes the size of craters in the dirt road. When she hit a particularly large hole in the road that sent dust and gravel flying, Tess saw stars as the jolt sent her bouncing in her seat and her head nearly snapped from her neck. Lord, she thought as she slowed the car to a crawl, she was going to feel that one tomorrow.
Finally she reached the clearing where Ginger's taillights had disappeared, and Tess turned off to follow her. She arrived at a small stretch of land that looked as if it might have been someone's fishing camp at one time. In
Download


Copyright Disclaimer:
This site does not store any files on its server. We only index and link to content provided by other sites. Please contact the content providers to delete copyright contents if any and email us, we'll remove relevant links or contents immediately.