Until Darkness Comes by Melynda Price
Author:Melynda Price [Price, Melynda] , Date: June 11, 2021 ,Views: 20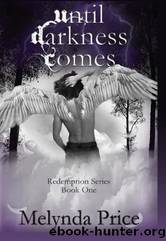 Author:Melynda Price [Price, Melynda]
Language: eng
Format: epub
ISBN: 0984852999
Publisher: 5 Prince Publishing
Published: 2012-03-20T07:00:00+00:00



Chapter Twenty
Liam backed the Mustang out of the parking lot and drove over to Karen's Bagels. It was close enough to lunch, they'd be serving up soup and sandwiches by now. He bought a bowl of chicken noodle soup and a whole grain turkey bagel with tomato and sprouts. The woman behind the counter bagged the items and gave him a polite smile, thanking him for coming by. Her eyes were burdened with sadness. Flyers for the missing girl sat piled on the counter beside the cash register.
Liam took the bag from her outstretched hand and left the little bagel shop. He drove over to Ashley's house. When he pulled into the driveway, the center seam of the living room curtains parted, and then fell shut again. He climbed out of the car, and with bag in hand, knocked on her kitchen door.
"Ashley?" he called when she didn't answer. A few more minutes passed before he saw her walk into the kitchen through the sheer lace window cover. She opened the door, looking surprised to see him standing there. He held up the bag and offered it to her.
"Liam?"
"Olivia was worried about you," he said, handing her the soup and bagel sandwich. "She said you cancelled your plans with her today. You told her you were ill?" His questioning gaze roamed over her, taking in the bruises and marks on her neck. Ashley turned away from him, setting the food on the counter.
"I'm fine," she said coolly, keeping her back to him. "I'm just not feeling well, that's all. You didn't have to stop by."
He took a hesitant step inside the kitchen. "You don't look fine."
"I just don't want to talk to anyone right now, okay?" she snapped.
His heart ached with pity for the poor girl. He reached out his hand to touch her shoulder, but stopped. "It's not your fault, Ashley."
"You know???"
"I do."
"…Olivia?"
"No." He turned to walk out the door, and froze midstep when Ashley's sob filled the small kitchen. He turned back to see the girl hunched over with her face buried in her hands, her shoulders shaking uncontrollably.
Liam walked back over to her. "Come here," he said, gently pulling her into his arms. He'd never touched another human before, other than Olivia, and he wasn't prepared for the emptiness and grief that flooded into him. Her sorrow was nearly enough to make him pull away. He physically forced himself to hold on to her.
Ashley buried her face into his chest and sobbed. Her tears burned his flesh—her heartache was almost more than he could bear this close.
"Ashley, you have to talk to Olivia."
"I can't." Her words came out in a muffled cry.
"She won't blame you. It wasn't your fault."
"How can she not? I blame myself!"
"That's the thing about guilt and blame, it's often misguided. We're always the hardest on ourselves." He let Ashley go and took a step back, relieved to put some distance between them.
"I'll bring Olivia by tonight. It's never too late for a second chance, Ashley.
Download


Copyright Disclaimer:
This site does not store any files on its server. We only index and link to content provided by other sites. Please contact the content providers to delete copyright contents if any and email us, we'll remove relevant links or contents immediately.