People We Meet on Vacation by Emily Henry
Author:Emily Henry [Henry, Emily] , Date: May 12, 2021 ,Views: 513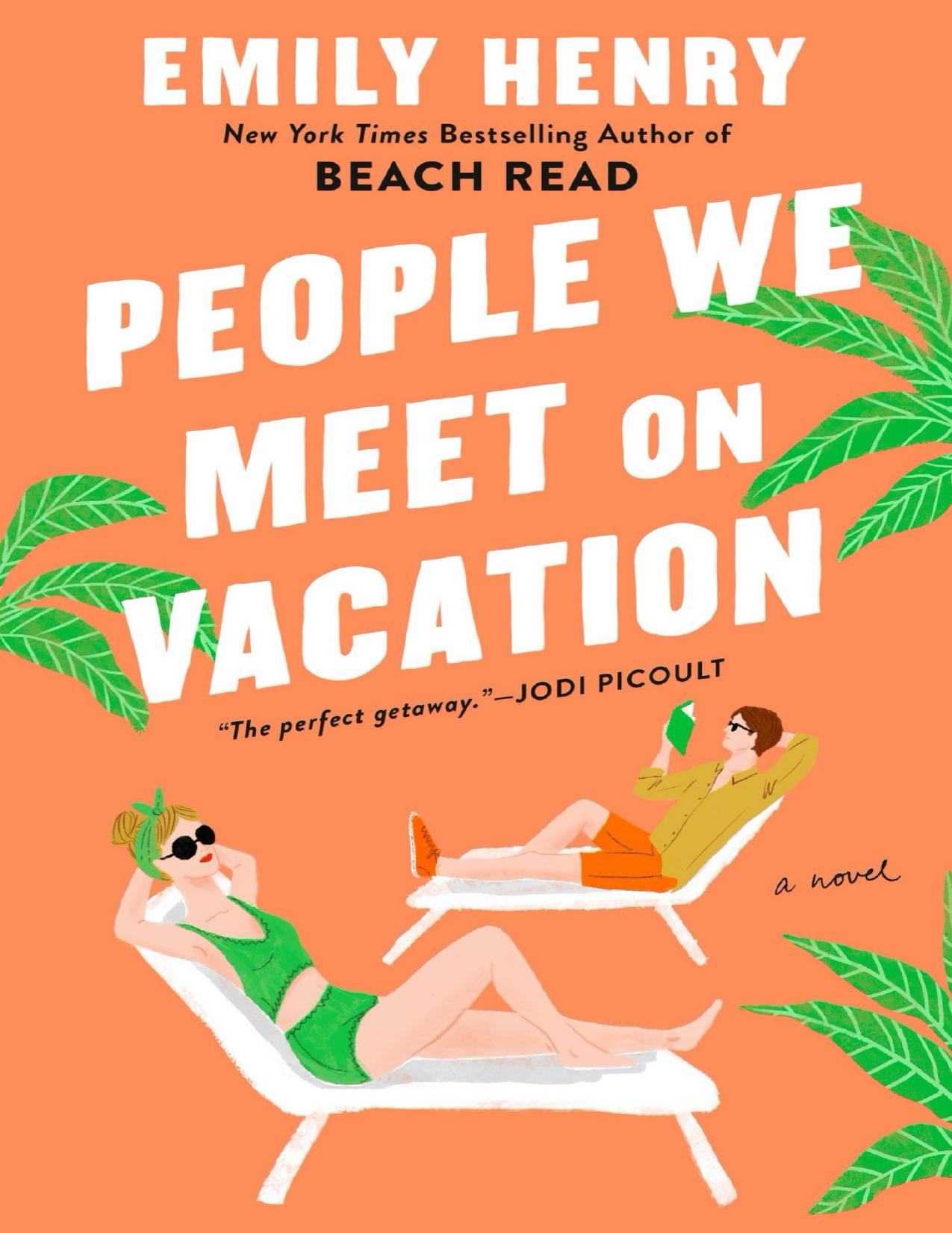 Author:Emily Henry [Henry, Emily]
Language: eng
Format: epub
ISBN: 9781984806765
Google: xcL3DwAAQBAJ
Amazon: B08FZNYQJC
Publisher: Berkley
Published: 2021-05-10T23:00:00+00:00



18
This Summer
ALEX!" I SHRIEK at the sight of his Tinder profile. "No!"
"What? What?" he says. "There's no way you've read everything by now!"
"Um, first of all," I say, brandishing his phone out in front of us, "don't you think that's a problem? Your bio looks like the cover letter to a résumé. I didn't even know Tinder bios could be this long! Isn't there some kind of character limit? No one is going to read this whole thing."
"If they're really interested, they will," he says, slipping the phone out of my hand.
"Maybe if they're interested in harvesting your organs, they'll skim to the bottom just to make sure you don't mention your blood type—do you?"
"No," he says, sounding hurt, then adds, "just my weight, height, BMI, and social security number. Is what I wrote good at least?"
"Oh, we're not talking about that just yet." I pluck his phone from his hand again, angle the screen toward him, and zoom in on his profile picture. "First we have to talk about this."
He frowns. "I like that picture."
"Alex . . ." I say calmly. "There are four people in this picture."
"So?"
"So we have found the first and largest problem."
"That I have friends? I thought that would help."
"You poor innocent baby creature, freshly arrived to earth," I coo.
"Women don't want to date men who have friends?" he says dryly, disbelieving.
"Of course they do," I say. "They just don't want to play Dating App Roulette. How are they supposed to know which one of these guys is you? That guy on the left is, like, eighty."
"Biology teacher," he says. His frown deepens. "I don't really take pictures by myself."
"You sent me those Sad Puppy selfies," I point out.
"That's different," he says. "That was for you . . . You think I should use one of those?"
"God, no," I say. "But you could take a new picture where you're not making that face, or you could crop one that's you and three biology teachers of a certain age so that it's just you."
"I'm making a weird face in that picture," he says. "I'm always making a weird face in pictures."
I laugh, but really, warm affection is growing in my belly. "You have a face for movies, not photographs," I say.
"Meaning?"
"Meaning you're extremely handsome in real life, when your face is moving how it does, but when one millisecond is captured, yes, sometimes you're making a weird face."
"So basically I should delete Tinder and throw my phone into the sea."
"Wait!" I jump out of bed and snatch my phone off the counter where I left it, then climb back up beside Alex, tucking my legs underneath me. "I know what you should use."
He dubiously watches me scroll through my photos. I'm looking for a picture from our Tuscany trip, the last trip before Croatia. We'd been sitting outside on the patio, eating a late dinner, and he slipped away without a word. I figured he'd gone to the bathroom, but when I went inside to get dessert, he was in the kitchen, biting his lip and reading an email on his phone.
Download


Copyright Disclaimer:
This site does not store any files on its server. We only index and link to content provided by other sites. Please contact the content providers to delete copyright contents if any and email us, we'll remove relevant links or contents immediately.