Mordew by Alex Pheby
Author:Alex Pheby , Date: August 20, 2020 ,Views: 440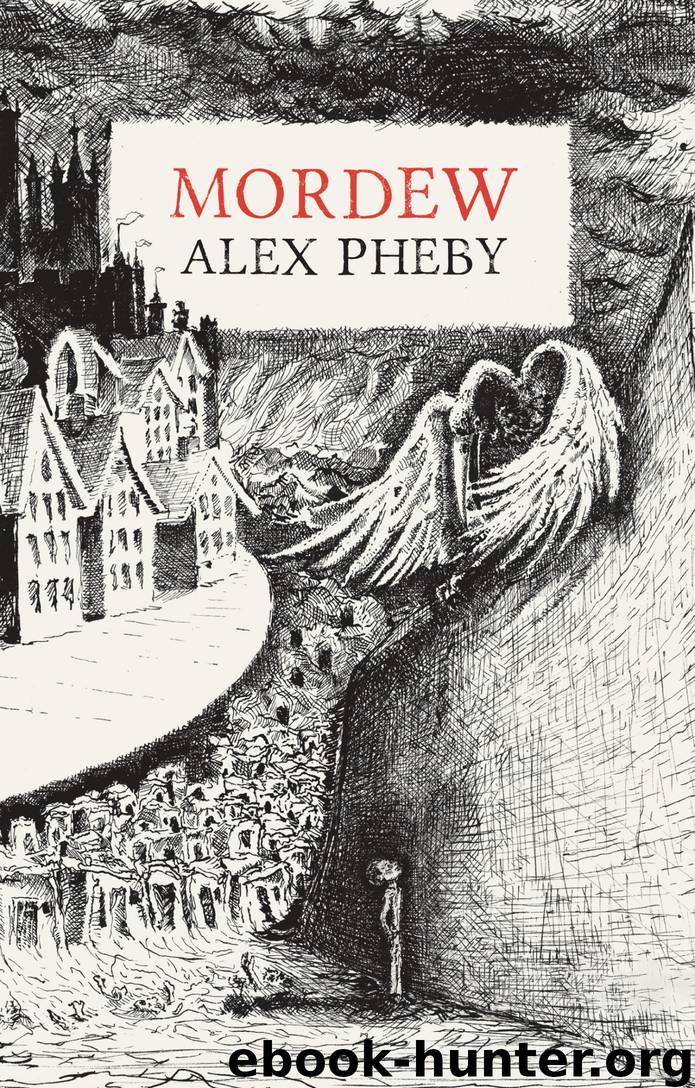 Author:Alex Pheby
Language: eng
Format: epub
Tags: Fiction;Death;Misery;Soul-eating-horror;Magic;Fantasy;Worms;Sewers;Dead-life;Award-winning;Critically-acclaimed;Evil;Pure evil;Filth;Degradation;Sorrow;Murder;Dogs;Face-eating;Slums;Potions;Carts;Glass road;Manse;Mistress;God;Dead god;Atheistic crusade;Lungworms;Clubhouse;Riots;Mobs;Class war;Maoism;Independent publishing;Chaos;Despair;Injustice;Talking books;Ghosts;Invisible hands;Paris
Publisher: Galley Beggar Press
Published: 2020-07-12T14:50:15+00:00



LXII
'Child, the Master is pleased with your progress. Though you do not deserve His attention, even for the slightest moment, let me assure you that He has spared it for you on many occasions. Indeed, I cannot think of another on whom He has taken such care. All the other boys who come here, except only those with the most obvious and limited utility, He has left solely to my care. But today – oh, glorious happiness.'
Nathan shifted in his chair, kept his hands crossed under the table and made the smallest of nods. Bellows was acting oddly today, as if he was not as convinced of his rhetoric on this occasion, as if there were doubts which he sought to quell with overstatement. Perhaps the gill-man had reported Nathan's use of the playroom after dark. Perhaps this was the prelude to punishment.
Bellows came towards the table, put his hands on it. 'He invited me into his presence. "Bellows," he said, "fine work it is that you do with the Treeves boy, turning him from a wayward thing back onto the path of sense and righteousness."' Bellows peered forwards. '"He has learned his letters, with the help of the book, and he has also learned something of the world, a world that until this time can have been nothing more to him than a distant supposition, a shadow cast on an already dim and murky canvas, barely discernible. You have taught him, my faithful servant, of the city that lies across the sea, and of the Mistress of that place, the base and ill-disciplined one who struggles always for the death of Mordew and all its people." These things he said to me, this very morning, characterising you as a thing worthy of paying his mind to, and me also, by association. Do you feel the privilege in that, Nathan?'
Nathan nodded. He kept hearing the rattle of the door handle, kept seeing Prissy, her knees pulled up, unmoving. The locket was warm at his chest, but he did not touch it, could only feel it through his shirt.
'Quite,' Bellows crowed, his voice cracking. 'You do not feel worthy of His approval, knowing yourself to be nothing more than a thing that crawls upon the earth in comparison with He who is so great. And you are right, you are nothing. Yet. Not yet, but perhaps soon. For the Master has work for you, now you are ready. He instructs me to prepare you, for He will come today, in the evening, and after you have eaten, He will take you for this work. What say you to this?' Bellows peered at Nathan, as if in expectation.
Nathan bowed his head, unsure of what to say that would satisfy Bellows, and unsure of how he felt. Had the gill-man gone straight to the Master, bypassed Bellows altogether? Was he planning his punishment out of sight of the others?
Bellows came and stood behind. Nathan flinched when the man's hand lay cold on the
Download


Copyright Disclaimer:
This site does not store any files on its server. We only index and link to content provided by other sites. Please contact the content providers to delete copyright contents if any and email us, we'll remove relevant links or contents immediately.