Kiss My Cupcake by Helena Hunting
Author:Helena Hunting , Date: August 12, 2020 ,Views: 378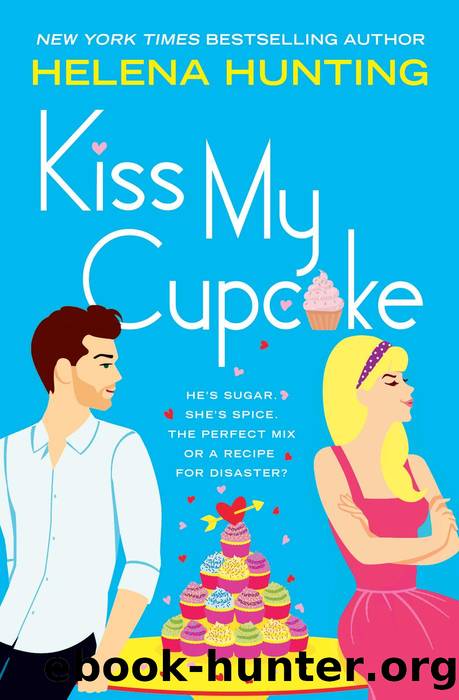 Author:Helena Hunting
Language: eng
Format: epub
Tags: None
Publisher: Grand Central Publishing
Published: 2020-11-08T00:00:00+00:00



chapter twelve
The Revealing Ride Home
Ronan
Okay, so the whole sexual innuendo, "dessert round two" comment was a little over the top, but I felt it was completely justified considering Blaire's cousin needs an ego check.
It isn't until we're in Blaire's SUV and we've made it past the gates that I finally speak. "That was interesting."
Blaire glances at me before she turns left out of the driveway. Her cheeks are tinged pink, likely from the embarrassing end to our visit in which I insinuated, in front of her entire family, that I was going to take her home and devour her like one of her cupcakes. "Sorry I didn't adequately prepare you for the experience."
"I don't think anything could have adequately prepared me for that."
"They're well-meaning but crazy." She tucks a few wayward strands of hair behind her ear.
"You can say that again. How the hell did your parents end up swapping partners?" I wonder how many people Blaire's had to explain this to and whether it ever gets easier.
Blaire blows out a breath. "Uh, I don't really know what precipitated it, but my whole family has always been really close, traveling together to get new restaurants up and running. Skylar, Maddy, and I were pretty much raised as sisters, and whoever wasn't on the road looked after us. The parental roles were basically interchangeable."
She grips the steering wheel tightly. "When I was a sophomore in high school, Mom, Dad, Aunt Nora, and Uncle Lawrence sat us kids down and explained that things were going to change." She shakes her head, maybe remembering how it all went down. "It was the weirdest conversation I've ever been involved in. At least until Maddy and Matthew told me they'd started dating."
The whole Maddy and Matthew situation is its own crazy nightmare, I'm sure. I'd have to come back to that, though. "You were in high school when it happened?"
She nods once. "Yup."
"That must've been rough."
"Uh, well, not much changed to be honest. I mean, there were obvious things, like my mom and dad stopped sleeping in the same bedroom, but the actual family dynamic stayed pretty much the same. Outside the house it was a whole different story, though."
"Can I ask how, or do you not want to talk about it? Because honestly, I can totally understand if you don't want to, but I can't lie and tell you I'm not curious."
"It's like a bad daytime talk show episode."
I can't tell if she's embarrassed or what, so I give her an out. "We can change the subject."
"It's fine. It was a long time ago. I'm mostly over it. I'm pretty removed from the situation at this point. I love my family, but the whole situation is weird and kind of squicky, you know?" She grimaces. "Actually, you probably don't know, which is a really good thing. Anyway, my parents thought the best plan would be to have everyone move into the house together, less disruption for us kids, and my aunt and uncle were always over anyway.
Download


Copyright Disclaimer:
This site does not store any files on its server. We only index and link to content provided by other sites. Please contact the content providers to delete copyright contents if any and email us, we'll remove relevant links or contents immediately.