Squeeze Me: A Novel by Carl Hiaasen
Author:Carl Hiaasen [Hiaasen, Carl] , Date: September 5, 2020 ,Views: 649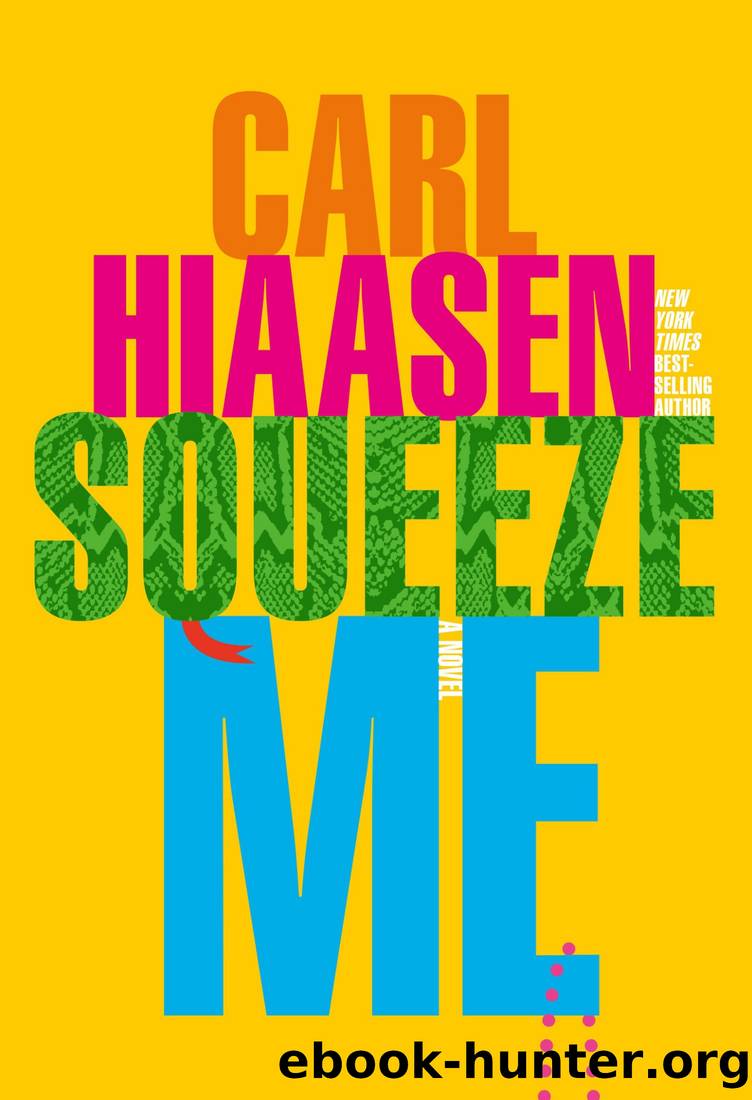 Author:Carl Hiaasen [Hiaasen, Carl]
Language: eng
Format: epub
ISBN: 9780593295342
Amazon: 059329534X
Publisher: Random House Audio
Published: 2020-08-24T23:00:00+00:00



"Nice try, Mr. Teabull," Angie said.
Ryskamp allowed that the note had some nice touches. Crosby said a horseshit fake was still horseshit.
"But not necessarily worthless horseshit," Angie said. "Who else besides us knows that Burns didn't write this?"
"The fuckstick who did write it," Ryskamp replied. "Same fuckstick who killed him."
"It's Teabull, Paul. The manager of Lipid House. You're allowed to speak his name."
Jerry Crosby said, "Doesn't matter. Nobody gives a shit if Uric Burns was murdered."
Angie didn't disagree. "All I'm saying is the phony note is a gift."
"How?"
"Because it says straight up Diego Beltrán is innocent. Teabull wrote it that way because he's desperate to end the Fitzsimmons investigation. As long as Beltrán is being hyped as the last surviving suspect, the case won't be closed. Reporters will keep trying to dig up more details about the death of the President's favorite Potussy—and that's the last thing in the world Teabull wants."
Neither Ryskamp nor Crosby interrupted her. They knew what was coming.
"So, what if this note got leaked?" Angie tapped Crosby's phone screen. "I mean, here's one of the bad guys swearing in his dying words that he and his partner never met the Honduran kid. If the media got hold of that, the prosecutors wouldn't have any choice except to drop the case against Diego."
Crosby pocketed his phone. "He hasn't been charged with murder. They caught him with a stolen piece of jewelry." Again he stood up. This time he dropped some cash on the table. "I'll text you the screen-shot of the note, Angie."
"Good man," she said.
"But only if you promise to leave me out of it. Don't say a word about the second pearl or the Malibu video, because then they'll know the leak came from me."
"Deal."
"One more thing," said the chief. "Don't get your hopes up."
Once he and Angie were alone, Ryskamp said, "Jerry's right. I don't think you appreciate what's at play here. It's all goddamn theater, and the people behind the curtain don't have souls. You don't know these creeps."
"Honestly, Paul, that patronizing tone does not make me want to fuck your brains out."
The agent gave a startled blink. "Was there even a chance of that happening?"
"I was beginning to like you."
"Well, shit."
"Burns was your first homicide, wasn't it? Your first scene? I'm betting the Secret Service doesn't offer much training in that area."
"Low blow," said the agent.
"Well, that wasn't my first scene. You know what a dead body looks like after a week in the Everglades? Let's say middle of August. Let's say a stoned pig hunter flipped his airboat at fifty fucking miles an hour."
Ryskamp conceded the point.
"Would it help salvage your opinion of me," he said, "to tell you I don't have the same career concerns as Chief Crosby? I'm cleanly divorced, childless, no mortgage (I rent), and my personal vehicle's paid for. More importantly, I plan to retire soon and—short of espionage, counterfeiting T-bonds, or recreational cannibalism—there's practically nothing a senior agent at my pay grade can do to screw himself out of his pension.
Download


Copyright Disclaimer:
This site does not store any files on its server. We only index and link to content provided by other sites. Please contact the content providers to delete copyright contents if any and email us, we'll remove relevant links or contents immediately.