The War King by Jovee Winters
Author:Jovee Winters [Winters, Jovee] , Date: July 6, 2022 ,Views: 7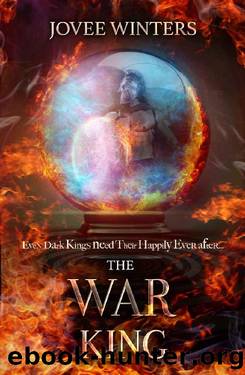 Author:Jovee Winters [Winters, Jovee]
Language: eng
Format: epub
Publisher: JoveeWintersPublishing
Published: 2019-05-31T16:00:00+00:00



Chapter 10
Hera
I watched him fade away until not even a speck of light remained, then and only then did I turn on my heel.
"You may come out now," I whispered.
Zeus stepped out from within shadow, looking magnificent in his robes of pure white and bathed in the light of the heavens.
Though Zeus was far broader and more powerful in the back and shoulders, Poseidon was more slender and trim. But their faces were nearly identical. My heart trembled as I thought about the look upon my younger brother's face. Shock. Trepidation. Maybe even a twinge of excitement.
I wasn't sure why I'd begun to remember things as of late, or why the remembering of them had set me on a strange journey I would never have believed possible for one like me. And yet here I was, altering before my very eyes and not sure how or when the metamorphosis might end.
Silent, I gazed at my husband, waiting to hear what he might have to say.
"You saw him coming, didn't you?" he asked, voice unwavering in his certainty that I had.
Once, I would have hidden everything from my husband. We did not have what anyone might call a healthy relationship. There was more pain, more drama, and more hurt between us than was natural or normal. But Poseidon wasn't the only one starting to recall a timeline that should never have been. Ever since Aphrodite's trial, I'd felt a change in myself, a softening. I was no longer the same woman I'd been then.
"The Fates move in mysterious ways, Zeus. I promised you truth. Do you remember?"
I referred, of course, to a conversation we'd had several weeks ago. After Aphrodite had fought and won Hephaestus's trust back in front of all of Olympus after Calyssa, the cunning bitch, had publicly shamed and humiliated me in front of my own people.
I'd not lied to Poseidon. I showed only the parts of me to the world that they needed to see. Nothing more and nothing less. When one became as powerful as I, friends became more of a concept than a reality. Being too trusting of advisors, associates, or anyone at all, tended to see monarchs dead for it. Eventually.
"I remember," he said deeply, distrust shining brightly in his eyes.
I could call him a bastard and tell him he'd been just as disloyal to me as I'd been to him, but that would defeat the purpose of what I plotted now. So I gave him a soft smile, shoving just enough hope into my eyes that he might grudgingly begin to believe—even if only infinitesimally—in me.
He was rigid and inflexible, though, as he stared down his long regal nose at me. Zeus had learned to play the game long ago, the night he overthrew the Titans to become our champion. We'd been so full of hope then, believing we would be better than our predecessors and that ballads would be sung in our honor, that we would have the devotion and loyalty of our people.
Download


Copyright Disclaimer:
This site does not store any files on its server. We only index and link to content provided by other sites. Please contact the content providers to delete copyright contents if any and email us, we'll remove relevant links or contents immediately.