The Turkish Psychedelic Explosion by Daniel Spicer
Author:Daniel Spicer , Date: March 14, 2018 ,Views: 1822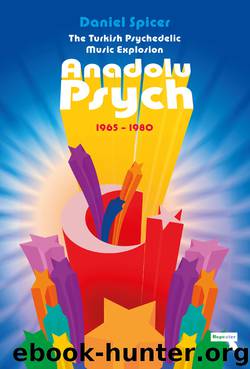 Author:Daniel Spicer
Language: eng
Format: epub
Tags: The Turkish Psychedelic Music Explosion
ISBN: 9781912248070
Publisher: Watkins Media
Published: 2018-01-22T05:00:00+00:00



Barış Manço 2023
(LP released on Yavuz Plak, 1975)
Perhaps unsurprisingly, 2023 was nowhere near the commercial success Manço had hoped for – but with his next project he made his most concerted lunge at stardom yet. Securing a prestigious deal with the international CBS Records label, Manço brought Kurtalan Ekspres to Belgium in 1976 and teamed up with the George Hayes Orchestra, purveyors of large-scale easy-listening arrangements, and four female backing singers known collectively as Dream Express. The resulting album, released across Europe under Manço's name with the Europeanised spelling Baris Mancho, was sung solely in English, and included a handful of originals plus note-for-note recreations of former hits: "Yine Yol Göründü Gurbete" became "Lucky Road," "Nazar Eyle" was recast as "Emerald Garden," and so on. With the addition of Haye's saccharine strings and the perky pop stylings of Dream Express, the album was a highly polished affair, specifically designed to introduce Manço as a fully formed superstar-in-waiting to European audiences. Sadly – despite topping the charts in Romania and Morocco – it barely registered with wider Western audiences. The following year, the album was released at home in Turkey under the title Nick the Chopper, named after one of the disc's originals – a peculiar, folkloric tale of a miserly woodsman strangled by the branches of the trees he intends to cut down, set to a bouncing disco arrangement with more than a hint of Boney M's 1976 smash "Daddy Cool." Despite failing to secure the international recognition he'd long dreamed of, Manço was able to take some solace in the fact that Nick the Chopper was a major hit in Turkey. Capitalising on that success, Kurtalan Ekspres set off on a forty-five-date tour of Anatolia, but it was soured when the band became caught up in political infighting. In the Balıkesir region of western Anatolia, the concert team were attacked and Ekspres members Caner Bora and Oktay Aldoğan were injured and taken to hospital.
The lesson of the Baris Mancho/Nick the Chopper debacle was clear: Manço's best hope of stardom lay not in Europe but at home with Turkish audiences. Moreover, by 1979, with Cem Karaca in self-imposed exile in West Germany, the stage was set for Manço to take his place as the pre-eminent personality of Turkish pop. It all came together that year when, after six months of intense studio rehearsals, he released his next album, the portentously titled Yeni Bir Gün (A New Day) – a none-too-subtle proclamation of Manço's intention to announce himself as the newly crowned king of Anadolu Psych. It was a tactic that paid off: the album was not only a major hit, it's roundly considered one of the key stopping-off points in the Kurtalan Ekspres journey.
Just a glance at the sleeve of Yeni Bir Gün reveals the extent to which the band were now keen to assume the mantle of rock royalty. The front cover carries a photograph of Manço in his most sumptuous, floor-length robes, gazing wistfully through a window at
Download


Copyright Disclaimer:
This site does not store any files on its server. We only index and link to content provided by other sites. Please contact the content providers to delete copyright contents if any and email us, we'll remove relevant links or contents immediately.