Hitler's Flying Saucers: A Guide to German Flying Discs of the Second World War by Stevens Henry
Author:Stevens, Henry [Stevens, Henry] , Date: April 12, 2018 ,Views: 2042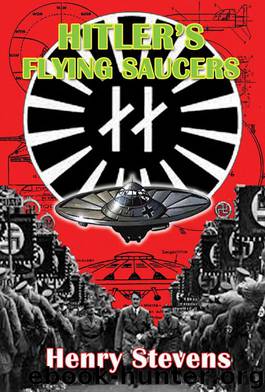 Author:Stevens, Henry [Stevens, Henry]
Language: eng
Format: epub
ISBN: 1935487914
Published: 2013-02-20T05:00:00+00:00



F.B.I. Reports on a German Field Propulsion Saucer
F.B.I. Reports on a German Field Propulsion Saucer
F.B.I. Reports on a German Field Propulsion Saucer
F.B.I. Reports on a German Field Propulsion Saucer
F.B.I. Reports on a German Field Propulsion Saucer
F.B.I. Reports on a German Field Propulsion Saucer
F.B.I. Reports on a German Field Propulsion Saucer
F.B.I. Reports on a German Field Propulsion Saucer
Some individuals see hidden, esoteric or occult knowledge as the inspiration for the breakthroughs the Germans made in field propulsion flying vehicles. Usually coupled with an exotic theory of UFO origin, it is an equally exotic local from which this exotic theory is said to have originated. We have been presented with this line of reasoning for years in the "UFOs are of extraterrestrial origin" theory. Indeed, some writers see an extraterrestrial origin for German UFOs also as we shall see. But just stating that UFOs are of occult or alien origin is not an explanation in itself. It still begs the question of how they operate. Their method of operation, their technology, must be explained regardless of where they came from in order for the explanation to be a satisfying one.
Returning to earth, another theory is that the German scientists were influenced by some ideas originating in Asia. Tibet and India are the suspects in question. UFOs have been reported over Mongolia, Tibet and India for centuries. The ancient Indians even claimed to have constructed aircraft which resemble flying saucers. These saucers are called Vimanas. Ancient Indian texts in Sanskrit speak of the flight and manufacture of these saucers. The German "Ahnenerbe," an organization whose purpose is associated with researching Germanic ancestry, sent out expeditions to the East with the express purpose of acquiring ancient, hidden knowledge. This is precisely what Heinrich Haarer was doing, whose book served as the basis for the film "Seven Years in Tibet." This link between flying saucers of the East and the West is suspected as an influence on German field propulsion vehicles (16). The exact connection, though, has never been demonstrated.
A connection which is more certain involves Viktor Schauberger's use of Pythagorean geometry. There is no doubt that Schauberger incorporated this mathematics into his work but what is intriguing is what is said about this body of mathematical knowledge. The story goes that it was the Knights Templar who stumbled upon this knowledge in the Holy Land during the Crusades and it was they who kept and incorporated this knowledge through the use of "sacred geometry."
Both the above mentioned schools of thought lead far beyond the parameters of this book but the reader should be aware of what is said about them and their relationship to German flying discs.
Whether it is called "occult technology" or "conventional technology," in the end, it is just simply technology. And in the end, as Dr. Freeman says, "all machines can be reduced to numbers." What is called by some "occult" might be better called "arcane." This is because this technology, which seems to be the basis of field propulsion, is
Download


Copyright Disclaimer:
This site does not store any files on its server. We only index and link to content provided by other sites. Please contact the content providers to delete copyright contents if any and email us, we'll remove relevant links or contents immediately.