The Startup Way by Eric Ries
Author:Eric Ries , Date: November 4, 2017 ,Views: 1959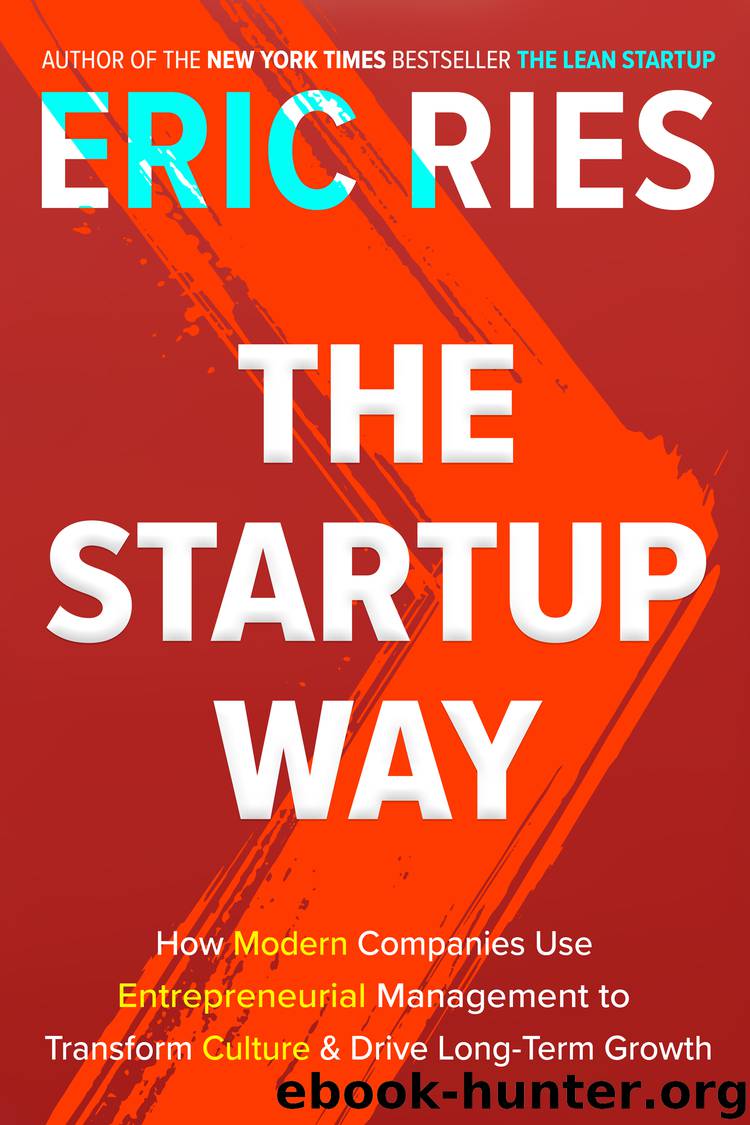 Author:Eric Ries
Language: eng
Format: epub
Publisher: The Crown Publishing Group
Published: 2017-10-17T04:00:00+00:00



3. Identify and Make Proper Use of Executive-Level Champions
In larger corporations, an important role emerges in Phase Two: the executive-level champion. Different from a coach and also distinct from the role of the executive sponsor in Phase One (who is required to be intimately involved with the program on a day-to-day level), the executive-level champion's primary function is to clear obstacles that crop up for teams as the lean way of working spreads. But rather than one-off exceptions, these interactions are more systemic and proactive.
A glimpse of a panel discussion I had with some members of one of GE's businesses illustrates the key differences. The focus was on one project in particular that could not secure the funding it needed. At the end of the presentation, the team leader opened the floor for questions.
The CEO of the business was in the audience and asked, "Can you say what's going on at a more detailed level with this situation?" The manager explained, and the CEO responded, "OK, I'll authorize the budget you need."
What happened next was a perfect example of a phenomenon I call "can't take yes for an answer." The team leader couldn't comprehend what was going on, because it was so far out of the realm of his experience for a decision like this to be made quickly and efficiently. Part of the problem in today's management practices is that many people aren't given the responsibility and the opportunity to think bigger. When this manager was, his response was to argue with the CEO:
"Well, we've got to convince finance to…"
The CEO turned to the CFO of the business, also in the room. "Is it okay with you?"
"Yes," came the answer.
"Okay, finance is signed up. What else do you need?"
"Well, we have to get approval to transfer this person. That's HR."
"Okay, then, you need the head of HR for my division? He's here, too. Hi, any objections?" The HR leader had none.
In fact, the CEO had to spend more time convincing the person whose project he was green-lighting that he was serious than he did making the decision in the first place. Remember, this was not a one-time trivial decision. This was an entire program's budget. This was the start of this division changing its entire budget allocation process.
It's key to focus on the role of this executive champion advocating, effectively and publicly, not just for this project's progress but for this way of working in general. Executive championship is instrumental in broadcasting the message that this is the way an organization intends to work.
Download


Copyright Disclaimer:
This site does not store any files on its server. We only index and link to content provided by other sites. Please contact the content providers to delete copyright contents if any and email us, we'll remove relevant links or contents immediately.