The Art of Persistence: Stop Quitting, Ignore Shiny Objects and Climb Your Way to Success by Michal Stawicki
Author:Michal Stawicki [Stawicki, Michal] , Date: April 28, 2015 ,Views: 3240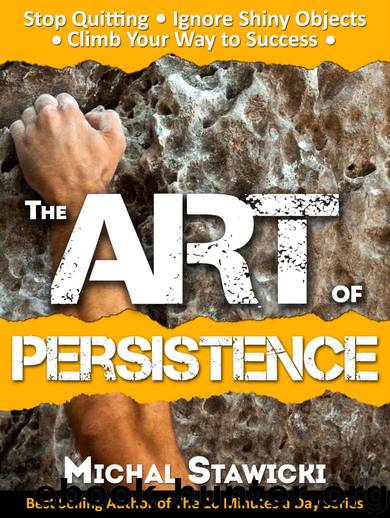 Author:Michal Stawicki [Stawicki, Michal]
Language: eng
Format: epub
Published: 2015-04-03T04:00:00+00:00



The Power of Now
All you really have is the present moment. You can only act right now. You cannot act in the past or in the future. The past is settled. The future is vague. If you spend most of your time on regretting the past or planning the future, you don't really live. Yes, it's sometimes necessary to draw lessons from prior events or plan your next steps. But spending too much time on such activities diminishes your ability to act now.
Your mind is always seeking ways it can move you forward, and a personal mission statement helps you to do so now. It grounds you in the present. To be useful, your mission statement must be positive and specify precise outcomes. The actions you take over time might change—particularly as new technology creates new pathways—but your desired outcomes will be consistent.
For example, you could write a mission for yourself such as, "I want to save dolphins on our planet." But worded like that, your statement won't motivate you. It sounds simply like a wish. If you believe you're here to save dolphins, you'll discern the key threats to dolphins and write a statement that outlines the outcomes you want, which might be, "I save dolphins by boycotting non-'Dolphin Safe' companies, and I share the effect of tuna fishing with the world."
If you are sure about your mission, the simplest statement is enough: "I save dolphins." That's an outcome! You will find a way to fulfill those words.
When something is really important to you, your subconscious can only react in two ways. It could discourage you from referring to it. In this way, you will lose focus and your subconscious will avoid all the hard work involved with fulfilling your desire. If you aren't thinking about this subject, then clearly it is not so important.
However, if you are fully engaged with something, your subconscious will have to take note. In the case of your personal mission statement, if you are reading and reflecting on it consistently, there is no way for your subconscious to avoid participation.
Download


Copyright Disclaimer:
This site does not store any files on its server. We only index and link to content provided by other sites. Please contact the content providers to delete copyright contents if any and email us, we'll remove relevant links or contents immediately.