The Prince with Amnesia by Emily Evans
Author:Emily Evans , Date: October 1, 2014 ,Views: 658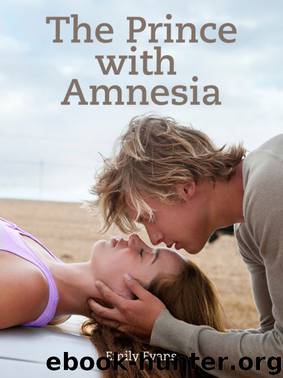 Author:Emily Evans
Language: eng
Format: epub, mobi



***
Violet watched the final soccer game from the stands with the rest of the drill team. The cool, night breeze brushed over her arms, bared by the vest top of her favorite spring uniform. It was rare for the temperature to be this cool in May, and equally rare for the drill team to perform at a soccer game. Many things were unprecedented about this winning season.
The drill team instructor walked up the row and checked a box on her clipboard. "You're up, Violet. Row one."
"What?"
The instructor grinned. "You did a great job tonight. Your high kicks are there, and you've put in the hours. Move up beside Taren."
Violet scooped up her stuff, too excited to precision walk. She squeezed in between Brittney and Taren. The sequins on her swish miniskirt rustled against theirs as she settled into place. She nudged Taren's team blanket and bucket of popcorn out of the way to make room for her feet.
Taren looked at her, surprised. "Good job."
On the field, Spencer executed a trick play that landed Kai close to the goal. The opposing player intercepted. Kai shoved into him, taking the ball back. The clock ticked down. No time to pass.
Taren's fingers bit into her arm. The crowd screamed and rose to their feet.
Kai swung his foot back and kicked.
The ball sailed into the net.
Her teammates grabbed her in a hug. Taren screamed. Brittney screamed. Violet screamed. "A perfect season!"
The guys on the field rushed Kai. They all jumped and high-fived each other. The band cranked up the school song. "Hail Dear Old Trallwyn…" They all linked arms and swayed as they sung.
Everyone lingered, enjoying the celebratory atmosphere. When the drill instructor blew her whistle, they lined up and paraded down the steps one last time. Violet hugged her friends, and bounced toward the concession stand to meet her family.
"Violet."
Looking left, to the grassy area beside the stands, she saw Kai, still wearing his dirt-stained uniform. She ran to his side, wrapped her arms around his waist, and smiled into his happy eyes. "You won! You were awesome!"
His hair, dark blond with sweat, fell across his forehead and his eyes crinkled. He gave her his half smile. "Yeah." He glanced at the crowd. "I want my mom to meet your parents. They're here, right?"
Violet had met his mom earlier in the season. She had a feminine version of Kai's teal eyes and a polished look. Why did she want to meet her parents? She wrinkled her nose and gave a little pout. "Yeah."
Kai pressed his finger to it. "Take me?"
Violet gave his finger a quick kiss, grinning at the smear of red lipstick on his skin. "Aren't you supposed to be in the locker room?"
Kai tilted his chin and shrugged.
He'd chosen her instead. She smiled. "They're at the concession stand, with my sister."
He followed her through the crush, typing out a text to his mom.
People leaving the game said, "Good game," as they passed.
Kai thanked them, but didn't stop. When they reached the concession stand, Violet re-introduced everybody.
Download


Copyright Disclaimer:
This site does not store any files on its server. We only index and link to content provided by other sites. Please contact the content providers to delete copyright contents if any and email us, we'll remove relevant links or contents immediately.