The Impossible Knife of Memory by Laurie Halse Anderson
Author:Laurie Halse Anderson [Anderson, Laurie Halse] , Date: March 26, 2014 ,Views: 913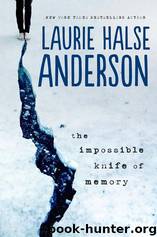 Author:Laurie Halse Anderson [Anderson, Laurie Halse]
Language: eng
Format: epub, mobi
Tags: Juvenile Fiction, Social Issues, Depression & Mental Illness, Historical, Military & Wars, Love & Romance
ISBN: 9780670012091
Google: yS5tAAAAQBAJ
Amazon: 0670012092
Publisher: Penguin
Published: 2014-01-07T05:00:00+00:00



_*_ 51 _*_
As we were walking to gym the next day, Finn asked me to go to see a school with him.
"We're already in school, dummy," I said.
"No, goof." He gently hip-checked me. "College. My mom set up an interview for me, tomorrow. I don't really want to go, but if you come with me, we can make it into a road trip. An epic road trip."
"Epic is a stupid word," I said. "Ninth graders call the cafeteria nachos 'epic.' That actress, what's-her-name, the stoned one, she says her dog is 'epic.' And her lipstick."
"It'll get us out of here for a day," he said. "And my mom will pay for the gas."
"Seriously?"
He nodded.
I kissed him. "That's potentially epic, I'll grant you that much."
Forging my father's signature on the excused absence card was cake, and it felt good, in a bizarre way, to watch Ms. Benedetti's face light up as she officially approved the absence. I wrote a note on my hand to bring her back a souvenir.
He picked me up at the corner the next morning. I thought he'd be buzzing on energy drinks and the epic-ness of the adventure, but he hardly said a word. Barely looked at me. When we got to the Thruway, he took a hard right into the commuter parking lot instead of driving through the tollbooth.
"What's going on?" I asked. "Did the oil light just come on? Is the engine overheating?"
He shook his head, but I craned my head for a look at the dashboard, just in case. The indicator lights showed no impending disasters. Finn sighed heavily, but still didn't say a word.
"Want me to drive?" I asked.
"You said you didn't have your license yet."
"Not technically."
He didn't even smile at that.
"It's not the car, is it?" I asked.
He sighed again, watching the line of cars rolling through the tollbooth. "I had a fight with my mom this morning," he said. "Before she even had her coffee."
"Why?"
"She was telling me a bunch of stupid, ass-kissing things to say in this interview and then she got on me again for quitting the team. Next thing you know, she was bitching about the rent going up again and what a rotten son I am. For the first time ever, I yelled back." He pounded the steering wheel gently with his fist. "I made her cry. Didn't think that would happen."
"Call and apologize," I suggested. "Text her, at least."
"I already did. That's not the point." He leaned forward and wiped the condensation off the windshield with his sleeve. "This interview is a waste of time. I don't want to go to Oneonta."
"Where do you want to go?"
"Told you the other night. Swevenbury."
"What's so great about it?"
"Swevenbury College, home of The Wanderers? Voted Strangest Small College the last three years in a row? You get to design your own major; there are, like, only two required courses and everybody has to study overseas for a year. Swevenbury is what all other colleges want to be when they grow up.
Download


Copyright Disclaimer:
This site does not store any files on its server. We only index and link to content provided by other sites. Please contact the content providers to delete copyright contents if any and email us, we'll remove relevant links or contents immediately.