Don't Kiss the Messenger (Edgelake High School) by Katie Ray
Author:Katie Ray [Ray, Katie] , Date: May 21, 2017 ,Views: 821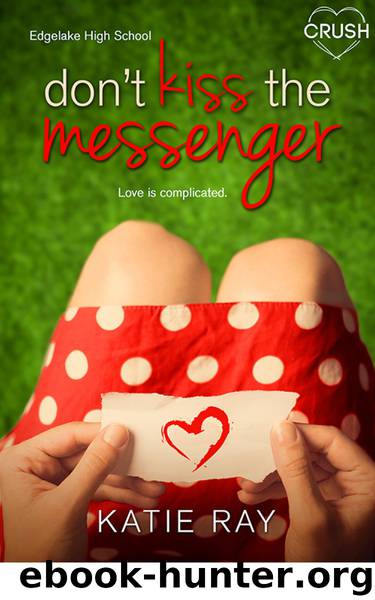 Author:Katie Ray [Ray, Katie]
Language: eng
Format: epub
Tags: Entangled, Teen, Crush, Katie Ray, Shakespeare; musical references; irony; disguises, football, volleyball, sports, sports romance, YA, young adult, young adult romance, teen romance, Katie Kacvinsky, music
Publisher: Entangled Publishing, LLC (Entangled Crush)
Published: 2017-04-10T07:00:00+00:00



Chapter Sixteen
Emmett
"So what happened last night?" Scott asked as he stretched next to me on the practice field. "Did you cash that check?" he asked and winked.
I thought about the rest of the night with Bryn. Her hot, slippery body pressed up against mine in the lake. The cold water. The tantalizing juxtaposition of temperatures. Hours of wet kisses.
And then the awkward walk home to her apartment where we said zero words to each other.
The nervous giggles.
The awkward good-bye at the door because suddenly her stomach hurt.
"It was weird," I said.
Scott smiled. "Weird. Like kinky weird?"
I rolled my eyes at his grinning face. "Would you get your mind out of the gutter?"
He smiled and stretched out his hamstring.
"Have you ever met a girl online?" I asked him.
He nodded. "Sure, on Facebook."
I nodded. "Well, it's kind of like that. With Bryn."
He smirked. "I'm pretty sure you guys were face-to-face last night. The whole skinny dipping part? That night is going down in history," he said.
"It was a great night," I agreed.
"CeCe is wild. Tuba told me she pulls those kinds of pranks all the time," Scott said.
I nodded slowly. CeCe. A part of me felt guilty for what happened last night. I was the first one to jump in after her. At first I thought she was crazy, and then I realized that's what drew me in. I jumped in first because I was craving her energy. I wanted to soak it in; I wanted it to rub off on me. It was like a magnetic pull.
When she swam away, I wanted to shout after her. I had the strange feeling like I was being pulled in two different directions. CeCe was a friend. A really good friend. But there was more to it than that, something I couldn't figure out.
"So who's this girl you met online?" Scott asked. It snapped my attention back to the conversation.
"It's Bryn," I said.
His forehead creased in confusion.
"I mean, we mostly email. That's how we've been getting to know each other since we're on the road half the time. And when she writes to me, it's amazing. But in person she acts like this self conscious middle-schooler most of the time."
"I knew a girl like that once," Scott said. "We messaged all the time, and it was great, but then in person it backfired."
"She wasn't the same?"
"Literally wasn't the same," Scott said. "She used some other girl's photo the entire time. I didn't even recognize her when we met."
"So what happened?" I asked, intrigued. "You broke things off?"
"Nah, we just sexted for a while. We were really good at that."
I smirked. I wanted more than digital foreplay.
"How's the sex?" he asked, point blank.
I picked at the white paint on the turf field. "We haven't."
"What?" Scott said. "That's why it's so awkward. She probably thinks you're not into her. Because, you know, you're not into her."
I shook my head. "I think I've made my feelings perfectly clear."
"Then what are you waiting for?" he asked.
"I don't want to mess it up.
Download


Copyright Disclaimer:
This site does not store any files on its server. We only index and link to content provided by other sites. Please contact the content providers to delete copyright contents if any and email us, we'll remove relevant links or contents immediately.