The Beginning of Everything by Robyn Schneider
Author:Robyn Schneider , Date: March 25, 2014 ,Views: 736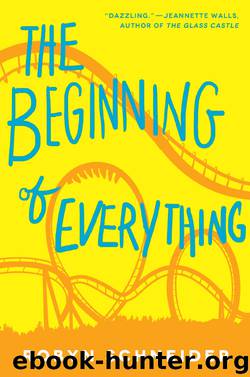 Author:Robyn Schneider
Language: eng
Format: epub, mobi
Publisher: HarperCollins
Published: 2013-03-10T16:00:00+00:00



18
THAT NIGHT I sat at my desk going over Moreno's corrections on my Gatsby practice essay. The lampposts in Meadowbridge Park had been on for hours, illuminating the honeysuckle bushes. I thought about Cassidy's flashlight, about how I stood at my window waiting for her room to go dark, and how F. Scott Fitzgerald would have loved that.
Cooper whined for attention. He'd draped himself across my feet and was chewing on a rawhide bone, holding it vertically between his paws like he was smoking a pipe. I leaned down to pet him, and he sighed.
"You're right," I said. "I know. I'm hopeless."
I reached for the switch on my desk lamp and flashed HELLO.
The lights switched off in Cassidy's bedroom, and her flashlight flicked on.
SORRY.
"She's sorry," I told Cooper, because he didn't understand Morse code.
He lifted his head as if to say But you already knew that, old sport.
Her flashlight flickered again.
FORGIVE ME.
This time, I didn't hesitate.
ALWAYS, I replied.
Download


Copyright Disclaimer:
This site does not store any files on its server. We only index and link to content provided by other sites. Please contact the content providers to delete copyright contents if any and email us, we'll remove relevant links or contents immediately.