Just Listen by Sarah Dessen
Author:Sarah Dessen , Date: March 25, 2014 ,Views: 2024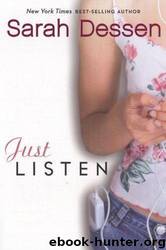 Author:Sarah Dessen
Language: eng
Format: mobi, epub, azw3
Tags: Social Issues, Love & Romance, Family, Juvenile Fiction, General, Siblings
ISBN: 9780142410974
Publisher: Speak
Published: 2008-02-27T23:00:00+00:00



Just Listen
Chapter Eleven
"It's Annabel!"
I had not even taken my finger off Owen's doorbell, but somehow Mallory was already on the other side. Then the knob rattled and the door swung open.
At first, I almost didn't recognize her, as she was wearing an incredible amount of makeup: base, eyeliner and shadow, way too much rouge, and fake eyelashes, one of which was unpasted and sticking to her eyebrow. She also had on a tight, strapless black dress and very high-​heeled sandals, on which she was teetering as she gripped the doorknob.
Grouped around her, all staring at me, were four other girls, also dressed and made up: a short, dark-​haired girl with glasses, wearing a black dress and wedge heels; two identical redheads with green eyes and freckles, each in jeans and high-​cut crop-​tops; and a chubby blonde in what looked like a prom dress. In the small space of the doorframe, the smell of hair-​spray was overpowering.
"Annabel!" Mallory shrieked, jumping up and down. Her hair, done up high above her head in some sort of faux-​Mohawk, did not move. "Hi!"
"Hi," I said. "What are you"
Before I could finish, she reached out, grabbing my hand and yanking me over the threshold. "You guys," she said as the other girls stepped back, still staring, "oh my God, this is Annabel Greene, can you
even believe it?"
The blonde in the prom dress, studying me with her very pink lips pursed, said, "You were in that commercial."
"Duh!" Mallory told her. She reached up, finally adjusting her eyelash. "She's the Kopfs girl. And a Lakeview Model."
"What are you doing here?" one of the redheads asked.
"Well," I said, "I was in the neighborhood, and"
"She's friends with my brother.And with me." Mallory squeezed my hand again, her palm hot against mine. To me she said, "You're just in time for our photo shoot. You can help us with our poses!"
"Actually, I can't stay," I said. "I just stopped in for a second."
This was what I'd told Whitney, too, after dinner. That I had something to bring by a friend's, and I'd be back within the hour. She'd just nodded, although she was looking at me sort of strangely, like she was wondering if I might come home smelling of bacon.
"Do you like my outfit?" Mallory asked now, striking a pose, one hand behind her neck, eyes turned up to the ceiling. She held it for a moment, then resumed her normal standing position. "We're doing all these different looks. I'm Evening Elegant."
"We're Daytime Casual," one of the redheads told me, planting a hand on her hip. Her sister, who had more freckles, nodded, her face solemn.
I looked at the dark-​haired girl with the glasses. "Classy Workplace," she mumbled, tugging at her black dress.
"And I," the blonde announced, twirling so her dress swished, "am Fantasy Engagement."
"You are not," Mallory said. "You're Nighttime Formal."
"Fantasy Engagement," the blonde insisted, taking another spin. To me she added, "This dress cost"
"Four hundred dollars, we know, we know," Mallory said, annoyed. "She thinks she's a big deal just because her sister was a debutante.
Download


Copyright Disclaimer:
This site does not store any files on its server. We only index and link to content provided by other sites. Please contact the content providers to delete copyright contents if any and email us, we'll remove relevant links or contents immediately.