The Paranormal 13 (13 free books featuring witches, vampires, werewolves, mermaids, psychics, Loki, time travel and more!) by unknow
Author:unknow , Date: September 4, 2017 ,Views: 1335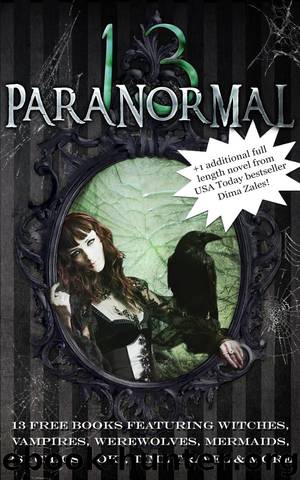 Author:unknow
Language: eng
Format: epub
Tags: romance boxed set, free paranormal romance, urban fantasy, vampires, witches, psychics, mermaids, ghosts, loki, gods
Publisher: Frostbite Publishing
Published: 2014-10-07T04:00:00+00:00



Chapter Sixteen
Scientists once believed that people found kissing pleasurable because kissing lips generate an electrical current. This may not be true, but kissing can be shocking.
—Petra's notes
His mouth tasted warm and slightly of wine. A warning somewhere deep within her sounded, but she pushed it away.
"Why would you help me?" he asked softly and she felt his breath and the movement of his lips against her throat. His hands spanned her waist. Before she could answer, his lips found hers again and he bent her backward, leaning over her.
For a few dizzy seconds she couldn't think of anything other than the kiss. "Everyone needs a little help," Petra said, struggling to find her voice. His lips returned to her throat, trailed down the side of her neck and stopped below her ear.
"I do not want or need your help," Emory said, running his hands up and down her back.
"Not exactly true," Petra said, pulling away so she could see his face. "Kissing, for example, is very difficult to do alone. Tell me what you want with Chambers and I'll kiss you again."
He laughed. "You want to kiss me. Again."
She backed away and tucked a strand of her hair behind her ear. "I think I learned in biology class that you want to kiss me more."
He took a step toward her, and she bit her lip.
"Biology class? What other secrets did you learn in this biology class?"
She thought about everything science had learned since the 1600s and smiled. At the moment, she didn't want to talk about micro-matter.
"Tell me your secrets, and I'll tell you mine," she said, trying to sound calm, despite the rioting inside. Self preservation told her to run. Her emotions told her to lean into him. Her sensible self said she didn't know Emory and what she did know didn't make any sense. But he could hurt her. A lot. I'm not safe with Emory, she told herself and managed to take two steps back.
"I'm sure you'd find my secrets impossible to believe," he said in a ragged voice, running his hand through his hair.
"I'm pretty sure you won't believe my secrets, either. I wouldn't believe me, but you can trust me to spy on Chambers."
He reached her in one step and placed his hands on either side of her face. Staring into her eyes, he said, "I don't want you around Chambers – "
"You're the one who put me there," she reminded him.
He opened his mouth to speak, but she cut him off. "Tell me what to look for." She leaned toward him and kissed him on the lips. Remembering what Rohan had said, she whispered, "I can help. Tomorrow Anne is coming to the manor with another tapestry. I can watch Chambers and pass information to Anne, but first, I need to know what I'm looking for. And why."
"I am not as interested in Chambers as I am in you." Emory let her go and turned. "I shouldn't be interested in you. This is wrong."
She touched his arm, gently.
Download


Copyright Disclaimer:
This site does not store any files on its server. We only index and link to content provided by other sites. Please contact the content providers to delete copyright contents if any and email us, we'll remove relevant links or contents immediately.