The Lying Life of Adults by Elena Ferrante;
Author:Elena Ferrante; , Date: August 15, 2020 ,Views: 843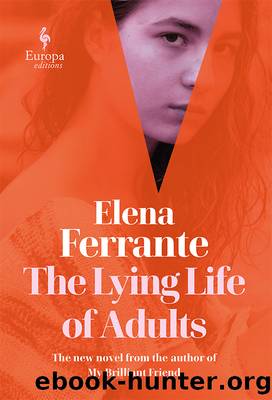 Author:Elena Ferrante;
Language: eng
Format: epub
Publisher: Lightning Source Inc. (Tier 2)
Published: 2020-04-03T09:12:04+00:00



11.
Corrado called me a few days later to tell me about my aunt. Vittoria had ordered him to report to me word for word that if I dared to act the teacher as I had done with that letter, she would come to the house and hit me in front of that bitch my mother. For that reason—he urged me—take her the bracelet, please, she wants it absolutely next Sunday, she needs it, she has to show it off at some church event.
He didn't merely summarize the message, he also told me how we were to organize ourselves for the occasion. He and his friend would come and pick me up in the car and drive me to Pascone. I would give back the bracelet—but listen to me, we'll drop you off in the square: you can't tell Vittoria that I came to get you in my friend's car, remember, that'll make her mad, you have to say you got there on the bus—and afterward we'll go and have fun. O.K.?
In those days I was particularly restless; I didn't feel well, I had a cough. I thought I was hideous and wanted to be more hideous. Before going to school, I'd stand in front of the mirror doing my best to look like a crazy person—my clothes, my hair. I wanted people not to want to be with me, exactly as I tried to let them know that I didn't want to be with them. Everyone irritated me, neighbors, people on the street, classmates, teachers. My mother especially annoyed me, smoking continuously, drinking gin before going to bed, complaining lethargically about everything, assuming an expression both worried and disgusted as soon as I said I needed a notebook or a book. But mostly I couldn't stand her because of the increasingly conspicuous devotion she now displayed toward everything my father did or said, as if he hadn't betrayed her for at least fifteen years with a woman who was her friend, who was the wife of his best friend. In other words, she exasperated me. I'd recently gotten into the habit of erasing my expression of indifference and shouting at her in my improvised Neapolitan, purposely, that she had to stop it, that she had to not care—go to the movies, Ma, go dancing, he's not your husband anymore, consider him dead, he went to live in Costanza's house, is it possible that he's still all you're concerned with, that he's still all you think about? I wanted to let her know that I felt contempt for her, that I wasn't like her and would never be like her. So once when my father telephoned and she started off in her docile fashion with phrases like "Don't worry, I'll take care of it," I began repeating her slavish locutions in a loud voice but mixing in insults and obscenities in a dialect I didn't know well, didn't pronounce well. She hung up immediately, so as to spare her ex-husband my vulgar voice, stared at me for a few seconds, then went into her study, obviously to cry.
Download


Copyright Disclaimer:
This site does not store any files on its server. We only index and link to content provided by other sites. Please contact the content providers to delete copyright contents if any and email us, we'll remove relevant links or contents immediately.