Moonflower Murders by Anthony Horowitz
Author:Anthony Horowitz [Horowitz, Anthony] , Date: August 24, 2020 ,Views: 1031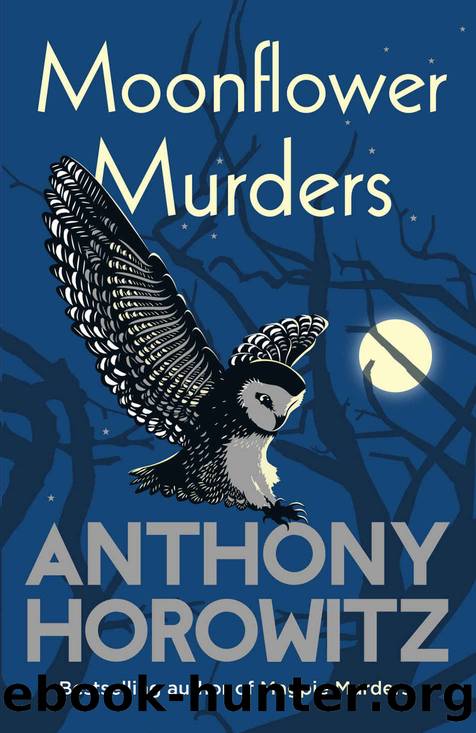 Author:Anthony Horowitz [Horowitz, Anthony]
Language: eng
Format: epub, azw3, mobi
ISBN: 9781473572591
Publisher: Random House
Published: 2020-08-19T23:00:00+00:00



Pünd read the letter carefully, then laid it down. 'It is most curious,' he said. 'I was speaking of this matter only yesterday.'
'Everyone's talking about Melissa James,' Miss Cain agreed.
'That is indeed so. It is a story of great public interest and this invitation is as timely as it is unexpected. And yet, on reflection, it seems to me that Devonshire is a great distance from here and the facts of the case, insofar as I am aware, are quite straightforward. I am surprised that the police have not yet come up with a solution.'
'Maybe they need your help.'
'That is often the case. But to travel such a distance … '
'Whatever you say, Mr Pünd.' She thought for a moment. 'But Miss James was a very good actress and you don't really have anything on your desk at the moment.'
'What of Mrs Allingham?
'I thought it sounded rather sordid. I'm sure this would be much more up your street.'
Pünd smiled. 'Yes, you may perhaps be right.' He made up his mind. 'Let us see. If you would be so kind as to book a transatlantic call for this afternoon, we will hear what this man, Herr Schultz, has to say.'
'Certainly, Mr Pünd. I'll see to that for you.'
The call was arranged for three o'clock, which would be midmorning in New York. Miss Cain made the connection and was put through to Schultz's office. Only then did she hand the receiver to Pünd. As he held it against his ear, he heard a low hissing and then, surprisingly clear, a voice with a strong Brooklyn accent.
'Hello? Is that Mr Pünd? Can you hear me?'
'Yes, yes. I can hear you. Is this Mr Schultz?'
'Thank you for calling us, sir. I want you to know, you have a great many admirers here in New York.'
'You are too kind.'
'Not at all. If you ever decided to write a book about your exploits, I hope you would allow this agency to represent you.'
That was, Pünd reflected, exactly what he would have expected from a New York agent. Even as he was discussing the death of one of his clients, he was attempting to secure another. He said nothing, ignoring the invitation – and perhaps the man at the end of the line realised he had stepped out of line.
'We're all heartbroken by the death of Miss James,' he continued earnestly. 'As you may know, she hadn't acted for some time, but she was about to make a comeback and all I can say is, it's a great loss to the movie industry. I'm sorry I can't be in London to speak with you personally but I very much hope you'll help us out here. We want to know who did this. We want to know what happened. We feel we owe it to her.'
'And if I do find the truth,' Pünd said, 'what then?'
'Well, obviously, that will be a matter for the British police. But our feeling is we can't just sit on our butts and do nothing.
Download


Copyright Disclaimer:
This site does not store any files on its server. We only index and link to content provided by other sites. Please contact the content providers to delete copyright contents if any and email us, we'll remove relevant links or contents immediately.