Malibu Rising by Taylor Jenkins Reid
Author:Taylor Jenkins Reid [Reid, Taylor Jenkins] , Date: June 13, 2021 ,Views: 825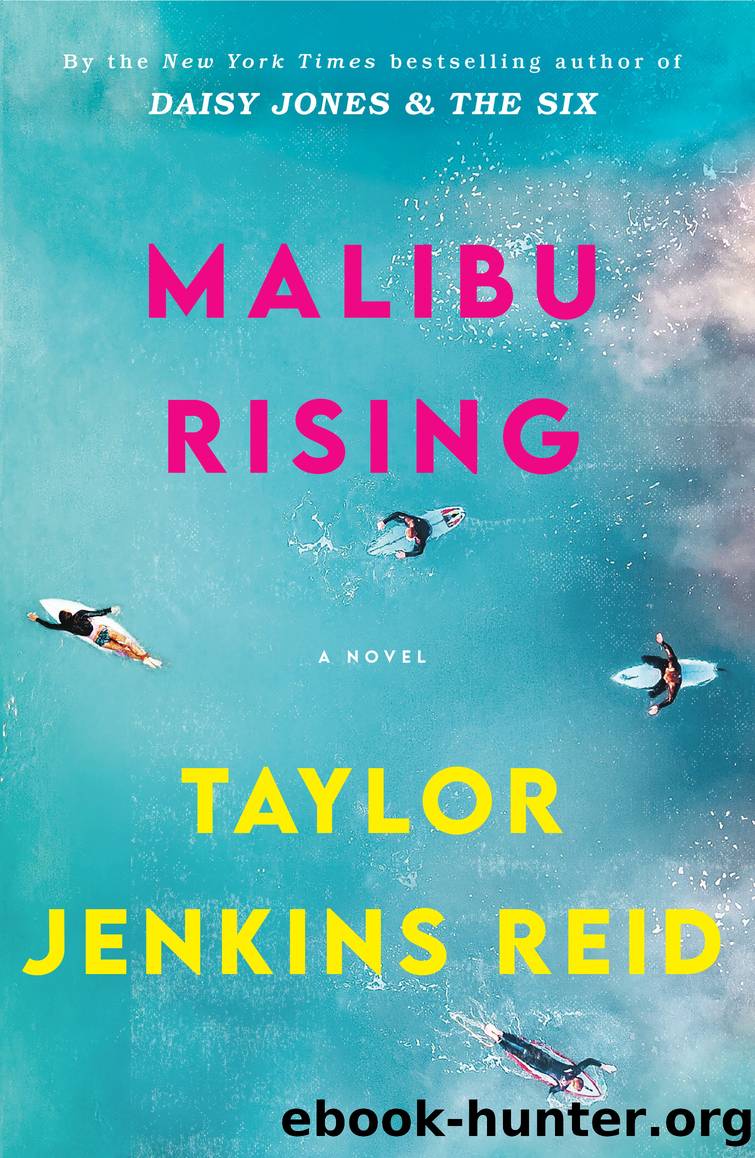 Author:Taylor Jenkins Reid [Reid, Taylor Jenkins]
Language: eng
Format: epub
Publisher: Random House Publishing Group
Published: 2021-06-02T00:00:00+00:00



* * *
• • •
When Brandon told people the story later, he would say that the moment he saw Nina he just knew. He never realized what he was looking for until he saw it all in her: long gorgeous hair, lithe body, bright smile. She looked sweet without being soft.
"Uh…" the PA said. "Mr. Randall?" Brandon didn't respond. The PA raised his voice and continued talking.
"Sorry," Brandon said. "What?"
"Touch-ups. On your jawline."
"Oh, right," Brandon said, finally tearing himself away from the sight of Nina. But he continued to steal glances at her as his makeup was fixed and he was put back in front of the camera. The photographer started flashing and Brandon was still looking over there. Did he know her from somewhere?
"She's the girl in the poster," the photographer said, catching him staring. "Nina Riva."
Brandon was unsure.
"Mick Riva's daughter," the photographer added.
"That's Mick Riva's daughter?" Brandon said.
"Yeah, she's a surfer."
Brandon looked at her again, this time long enough to get her attention. Nina turned and glanced at him. He figured his chances were good. After all, he had eight Slam titles under his belt and was expected to grab a ninth.
"You said her name is Nina?" Brandon asked the photographer. Before the photographer could stop shooting and confirm it, Brandon called to her.
Nina turned toward him. Kit looked to see, too. That's when, in full view of the cameras flashing at him, with his racket now down by his side, Brandon shouted, "Can I get your number?"
Nina laughed. And it seemed genuine, the way her head fell back ever so slightly. Brandon thought then that her smile looked effortless, that joy must come to her with ease.
"I'm serious!" he called to her. Nina shook her head, as if to say, "You're crazy."
Brandon felt a little crazy. He felt like he'd discovered a hidden treasure and he had to make it his. He had to hold it in his hands.
"Would you excuse me?" he said to the photographer. "For just one brief moment?" And then, without waiting for an answer, he ran to her table.
Up close, Brandon felt that much more intoxicated. There was something casual about her, the way her bikini top was tied up around her neck under her T-shirt, the way her flip-flops were worn down. But there was grace there, too: the elegant shape of her feet, the smoothness of her skin, the warmth of her brown eyes.
Brandon hung there, on the rail that separated the beach from the patio.
"I'm Brandon Randall," he said, extending his hand.
"Nina Riva." Nina accepted his hand and then gestured to her sister. "This is Kit."
"Kit," Brandon said, bowing his head ever so slightly. "Nice to meet you."
"Charmed, I'm sure," Kit said, amusing herself.
Brandon smiled, fully aware that Kit was making fun of him. He turned to Nina. "Marry me," he said, with a smile.
Nina laughed. "I don't know about that…"
Brandon leaned toward Kit. "What you do you think, Kit? Do I have a shot here?"
Kit looked Nina in the eye, trying to gauge what her sister might want her to say.
Download


Copyright Disclaimer:
This site does not store any files on its server. We only index and link to content provided by other sites. Please contact the content providers to delete copyright contents if any and email us, we'll remove relevant links or contents immediately.