The Look of Architecture (New York Public Library Lectures in Humanitites) by Witold Rybczynski
Author:Witold Rybczynski , Date: June 23, 2022 ,Views: 29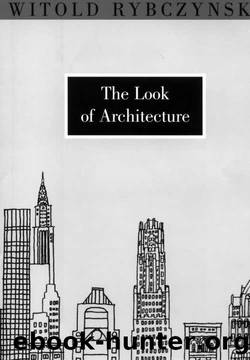 Author:Witold Rybczynski
Language: eng
Format: epub
Published: 2008-10-04T15:05:00+00:00



Fig. 20. Frank Furness's University of Pennsylvania library, once slated for demolition, has become the bestloved building on campus.
The fate of Rudolph and Furness is a reminder that although architecture is susceptible to fashion, architects are not fashion designers. "I do not design a new architecture every Monday morning," Mies van der Rohe is reputed to have said. This is often taken as a reflection of his serious commitment to his art. It was that, but it was something else, too. He might as well have said, "I cannot design a new architecture every Monday morning." The Seagram Building is a masterpiece, not because Mies had a sudden inspiration, but because he had spent decades learning how to bring commodity, firmness, and delight into his particular version of balance; how to attach the travertine to the wall to create a particular effect; which metal fabricator could make a certain kind of handrail; and exactly how deep to make a window mullion to cast the right size of shadow. Buildings are extremely complicated artifacts, and the time necessary to cultivate and refine a particular manner of building cannot be underestimated. This is especially true when the manner of building is personal or unusual, as it was in the case of both Furness and Rudolph. They were not simply being stubborn or high-minded when they refused to adapt to changing fashions, they were being realistic.
Morris Lapidus is an architect who has lived long enough to see architectural fashions come full circle. In the 195os, Lapidus designed many of the largest hotels in the Miami area: the Fontainebleau, the Americana, the Eden Roc. His flamboyant, eclectic designs were ridiculed by the architectural establishment, although they were popular with the public. Today, in a period of so-called entertainment architecture, when the world's most celebrated architects design theme parks and casinos, Lapidus seems less like a maverick than a pioneer. "The father of us all," Philip Johnson called him, with only slight exaggeration.
Download


Copyright Disclaimer:
This site does not store any files on its server. We only index and link to content provided by other sites. Please contact the content providers to delete copyright contents if any and email us, we'll remove relevant links or contents immediately.