The Hollywood Pitching Bible 3rd Edition by Douglas Eboch
Author:Douglas Eboch , Date: February 24, 2021 ,Views: 23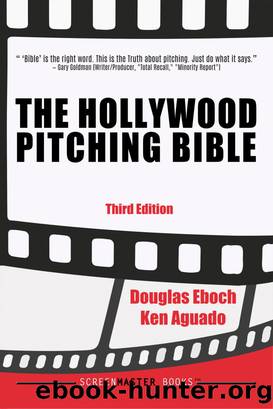 Author:Douglas Eboch
Language: eng
Format: epub
Tags: screenwriting, film producer, pitching, film business, tv business, screenwriting pitching, television pitching



Plot: Using Set Pieces.
Now that you've mapped out the major plot points and character arcs, let's back up for a moment. During a full-length pitch, you'll want to identify the major "set pieces" in your story. The exact definition of a set piece is a little fuzzy, but typically it means an elaborately constructed and memorable scene or sequence of scenes in a film. In an action movie, the set pieces will usually be the big action scenes. In a comedy, the outrageously funny scenes. In a drama the gut wrenching, emotional scenes. In a horror movie the shocking and scary scenes. Notice we used the word "memorable" when describing what a set piece is. Buyers like set pieces because, in addition to being an enjoyable part of the story, set pieces are frequently the thing the audience will talk about when recommending the film to others. Positive "word-of-mouth" (as it is referred to in distribution circles) is probably the most important thing that drives box office success after the opening weekend of a film, even more important than good reviews or advertising.
Most experienced writers will integrate their set pieces into the flow of their pitch and, as they appear, will identify them as such to the listener. If you don't integrate your set pieces into your pitch, be prepared to identify them if the buyer asks about them at the conclusion of your pitch. When you pitch your set pieces, avoid pitching them as scenes. Instead, describe in general what makes the set piece interesting, compelling or memorable. So for example, if you were pitching the final attack on the Death Star at the end of the original "Star Wars" as a set piece, you'd want to describe it as more than just an "epic battle," or a series of laser blasts and explosions. You'd want to explain how dramatic it will be to see Luke Skywalker, in his tiny X-Wing Fighter, repeatedly try and fail to navigate the canals of the massive Death Star, and it's only when Luke learns to trust the force that he's able to take that "one-in-a-million" shot, destroying the Death Star. This description incorporates action, but also drama and character. Much better.
Back to Top
Download


Copyright Disclaimer:
This site does not store any files on its server. We only index and link to content provided by other sites. Please contact the content providers to delete copyright contents if any and email us, we'll remove relevant links or contents immediately.