The Holiday by Jane Green & Jennifer Coburn & Liz Ireland
Author:Jane Green & Jennifer Coburn & Liz Ireland [Green, Jane / Coburn, Jennifer / Ireland, Liz] , Date: March 5, 2018 ,Views: 1185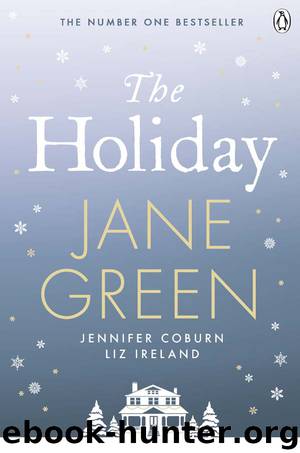 Author:Jane Green & Jennifer Coburn & Liz Ireland [Green, Jane / Coburn, Jennifer / Ireland, Liz]
Language: eng
Format: epub, azw3, mobi
ISBN: 9780141967608
Publisher: Penguin Books Ltd
Published: 2012-09-17T04:00:00+00:00



Chapter Six
Reilly called that afternoon to tell me that he won a set of lift tickets at his office holiday party raffle. 'I know you said you didn't want to ski this year, but how 'bout letting me take Hunter up for a few days and teaching him how to ski?'
'A few days?!'
'We'll be home before dark on Christmas Eve,' Reilly explained. 'Why not, Sarah? Hockey camp ends today. Skiing will help his game.' Realizing that this argument held no appeal for me, he changed tack. 'Did you know that half of all business deals are made on the golf course and on the slopes?'
'Really?' I asked.
'No, not really, Sarah. It was a joke. Hunter's six. What type of deals do you think the kid's gonna make?'
'Oh,' I said.
'It'll be fun, Sarah,' Reilly said, stressing the word as if to remind me that there is value in recreation. He wasn't the first person this month to notice that I'd lost my ability to enjoy life.
Though I'd miss my husband and son, the reality was that I wasn't spending a lot of time with either of them as I wallowed in self-pity and anger. If Reilly thought taking Hunter off to the slopes for a few days was a good way for them to bond, who was I to argue? They'd be back by Christmas Eve and in the three days that they were off, I could screen plenty of potential husbands for Prudence.
'Okay,' I said.
The next morning, I watched Reilly and Hunter's taxi pull away and checked my watch. I had less than an hour until my coffee date with Ron, thirty-eight-year-old actor. His photo was quite impressive. He had GQ bone structure and his brown hair was attractively cut. I'd cast him as a leading man, and with any luck, so would Prudence.
Ron was waiting at a table reading a newspaper. Or, rather, posing as if he were reading a newspaper. 'Hey,' he said, looking up and shaking his hair from his eyes. 'You must be Prudence's friend,' he said, standing and kissing my cheek.
'Yes,' I said, smiling at him, though I was disappointed to find that he was about twenty pounds thinner than he looked in his photo. And the GQ bone structure in his head shot was actually good lighting used by the photographer. Still, Ron was above average looking and seemed nice enough during our chat online just ten hours earlier.
'Tell me,' he said, in his radio announcer voice, 'why is it that women always hide their underwear when they go into the gynecologist's office? I mean, do you ladies think they don't know you wear panties?'
What? Was he testing material on me? I started blankly, hoping he'd realize I was not amused.
His facial expression was pure anticipation.
It was a standoff.
Finally, after a few moments, he spoke. 'My grandfather says women are like toothpaste. As you get farther to the end, you need to squeeze harder, but there's still good stuff in there,' Ron said, laughing alone.
Download


Copyright Disclaimer:
This site does not store any files on its server. We only index and link to content provided by other sites. Please contact the content providers to delete copyright contents if any and email us, we'll remove relevant links or contents immediately.