The Bullet Journal Method by Ryder Carroll
Author:Ryder Carroll [Carroll, Ryder] , Date: May 17, 2021 ,Views: 1024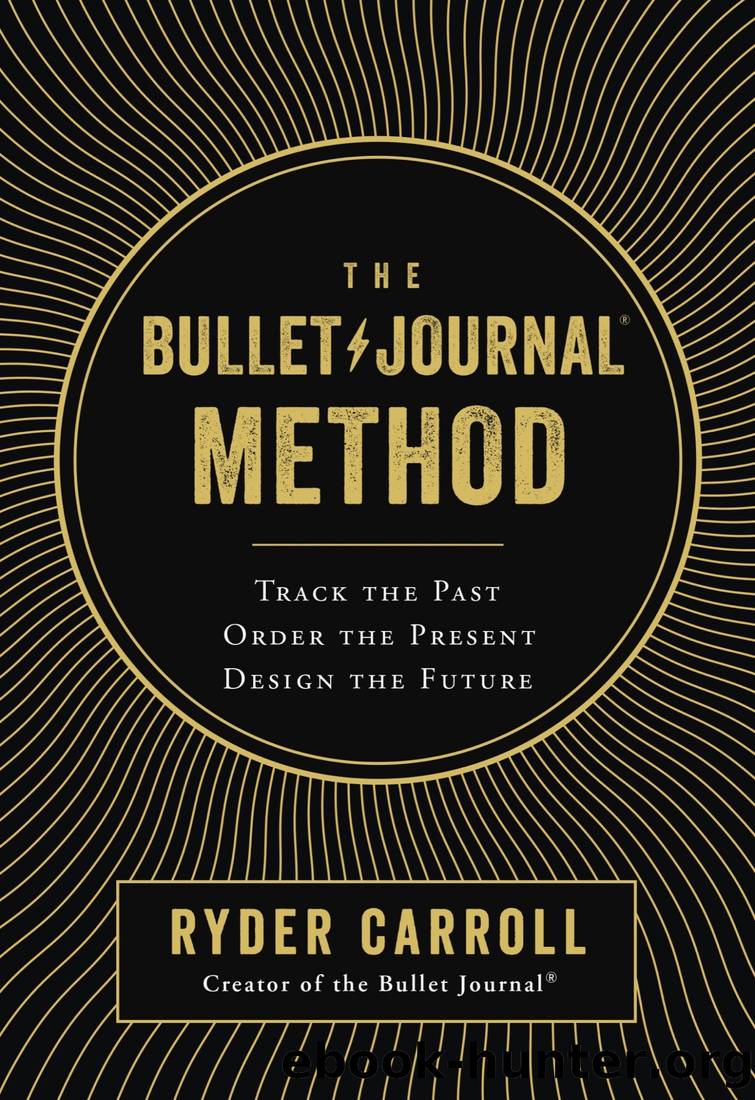 Author:Ryder Carroll [Carroll, Ryder]
Language: eng
Format: epub
Publisher: Penguin Publishing Group
Published: 2018-10-23T00:00:00+00:00



SMALL STEPS
I had three friends who shared three things in common: a soul-crushing desk job, a passion for yoga, and, at one point, a totally idyllic Instagram feed. You know the ones: posts of pristine white beaches bordered by lush palms and sky-blue waters. Endless images of beautiful people laughing their way through coconut cocktails, lounging around beach bonfires.
The first, let's call her Karen, quit her job, sold all her stuff, and moved to Costa Rica to become a yoga instructor. A year later she was right back at her desk. Why? She said that she didn't enjoy teaching yoga to entitled tourists at a resort. She had wanted to travel the world and experience local cultures. It didn't occur to her that locals couldn't afford to pay her to teach yoga and that working on the road greatly reduced the pleasure of travel. It was the same grind, just with better weather, but far away from the people she loved.
The second, let's call her Rachel, also quit her job for a yoga teaching position at a dreamy beach resort. A little over a year later, she resumed being a desk jockey. Her reason? She realized that teaching yoga took the fun out of it for her. What was once her treasured refuge became a job—and a much more physically strenuous one at that.
The last, let's call her Leigh, quit her office job a decade ago and has never looked back. She teaches yoga all around the world. What made her experience different? She started small. She began with teaching one class a week on weekends while still working her nine-to-five. An avid traveler, she used her vacations to experiment with teaching for a week or two at various resorts. It wasn't for her. Nothing lost, knowledge gained. Next, she tested being a guest instructor on retreats. Bingo. She loved retreats. They were intimate, fun, and profitable enough. The experience also gave her ideas for how she could improve on the retreat model. She started organizing her own local retreats. As they built steam, she moved them to more tropical places. And so it went. Rather than uproot her life, Leigh took a systematic approach to accomplishing her goal. She approached change with patience and curiosity, gradually figuring out one piece of the puzzle at a time. That inquisitive-yet-methodical approach ultimately allowed her to successfully transition into and sustain a very different kind of life.
Change is critical to productivity and growth—personal, professional, or otherwise. It can be a powerful way to alter our circumstances, but it can backfire. Large changes trigger our fear response. The more afraid we are, the more we need to calm ourselves. Many a great productive gesture or action has resulted in an equal or greater measure of inactivity. Peaks where we believe anything is possible are followed by shadowed valleys where we think maybe nothing is.
So how do we effect change in a way that is sustainable without stressing ourselves out? In Japan, there is a concept known as kaizen.
Download


Copyright Disclaimer:
This site does not store any files on its server. We only index and link to content provided by other sites. Please contact the content providers to delete copyright contents if any and email us, we'll remove relevant links or contents immediately.