The Billionaire's Wife by Ava Claire
Author:Ava Claire [Claire, Ava] , Date: January 14, 2021 ,Views: 23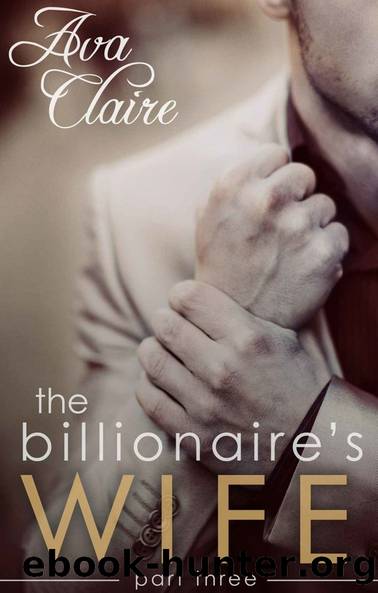 Author:Ava Claire [Claire, Ava]
Language: eng
Format: epub
Tags: Literature & Fiction, Romance, Anthologies, Contemporary, New Adult & College, 90 Minutes (44-64 Pages), Collections & Anthologies, billionaire erotic romance, billionaire love, billionaire romance, billionaire
Amazon: B00S1DNDNO
Published: 2015-01-08T00:00:00+00:00



SIXTEEN
"How was dinner?"
I stopped in the doorway, glaring at my husband perched on a bar stool, holding a glass of bourbon.
"I'm barely through the door-"
"By all means, get settled and comfortable," he said in a low, dangerous voice. A voice that told me my comfort was the furthest thing from his mind.
I kicked off my shoes and tossed my jacket on the couch. Not because he told me so, mind you. I put both hands on my waist and inhaled deep and pushed the air out of my nose. I did it a few times, and when I hit number ten, I realized I wasn't doing it to calm myself. I was waiting for him to apologize. When I faced him, I realized my breaths were wasted. He was more concerned with the glass in his hand.
"To answer your question, dinner was awful. And awkward."
"That's too bad."
"What the fuck, Jacob?" I snapped. Every bit of bottled up frustration boiled over. I knew that matching his obvious anger would do this situation no favors, but I couldn't put the stopper back in the bottle. "She didn't know. It was a perfectly innocent question."
He barely batted an eye. "Cole is none of their business."
"Even that would have been an improvement over what you said," I spat. When he slid off the stool with his eyes on a refill, I intercepted him. "How many have you had?"
His eyes were fire and brimstone. "I didn't appreciate your maternal digs at dinner, and they are still unwelcome."
"I get it!" I yelled, balling my fists so tight that my palms cried out in anger. "Your mom did something horrible. First she kept Cole's existence from you, then she took him away again when she told you about his foster parents." I relaxed my grip, suddenly feeling lighter. Like this unspoken truth was finally out. This burden I'd been clutching was finally lifted—and I didn't need to yell and gnash my teeth to get it out. Jacob was looking at me. He saw me—and for the first time all night, he was listening.
I gently took his glass and put it on the counter and held his face in my hands. The tables were turned—he usually held me. He was usually the one that told me everything was going to be okay. In a weird way this mess with Cole had opened up this whole new connection. A way for me to be there for Jacob. To let him know that it was okay to be vulnerable.
I could take care of him too.
I dove into his eyes, swimming in the blue waves that crashed into me. "You're not alone, Jacob."
He leaned in closer, his forehead against mine. I drowned in the emotions staring back at me. "Hearing you say that, being there for me even when I push you away—and after the way I acted at dinner..." His voice was filled with anguish and remorse. "I am so sorry, Lay. I'm not that person." He caressed my cheeks with his knuckles.
Download


Copyright Disclaimer:
This site does not store any files on its server. We only index and link to content provided by other sites. Please contact the content providers to delete copyright contents if any and email us, we'll remove relevant links or contents immediately.