The Best of Friends by Lucinda Berry
Author:Lucinda Berry [Berry, Lucinda] , Date: August 18, 2020 ,Views: 694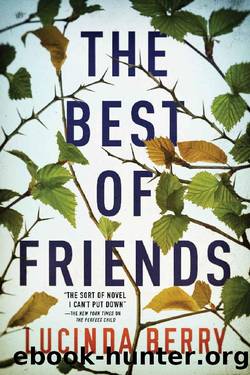 Author:Lucinda Berry [Berry, Lucinda]
Language: eng
Format: epub, mobi
Published: 2020-08-17T16:00:00+00:00



I duck my head and hurry through the Denny's parking lot, shoving down the leftover worry from our meeting with Detective Locke this afternoon. Nobody from Norchester goes to Denny's except as a last-resort breakfast venue, but we aren't taking any chances with being spotted. Lindsey and I picked one ten miles away just to be careful.
I push open the heavy glass doors and scan the tables for Kendra. I quickly spot her sitting in a booth at the center of the restaurant. She couldn't stand out more from the truck drivers and crew of twentysomethings that just left the bar, in her paisley-flowered sweater and pink scarf tied over her head. The smell of booze and stale cigarettes mingles with the smell of bacon grease and pancakes. We might as well be holding signs that say we're out of place. It just increases my sense of being a criminal, and I scurry to our table, avoiding eye contact with everyone.
She moves to stand and greet me, but I motion for her to stay seated. There's no reason to draw more attention to ourselves. I slip into the other side of the booth.
"I ordered you coffee." She motions to the thick ceramic mug in front of me before untying her scarf and wrapping it loosely around her neck. The top half of her blonde hair is pushed forward in a bump, secured with a clip, while the rest hangs over her narrow shoulders. It's the most put together I've seen her look since it happened.
"Thanks." I lace my fingers around my mug.
We stare at each other from across the booth. She has a petite face and perfect round lips. Natural lips. Not those fake ones that make women look ridiculous. Hers are the real deal. We've probably sat this way thousands of times in hundreds of places over the thirty-plus years of our friendship, but it feels like an awkward first date, and I have no idea what to say. I haven't been alone with her since before the accident, and so much hangs between us that I don't even know where to begin.
I take a sip of my coffee. Kendra put in the perfect amount of cream and sugar for me. If she's starting to pull any part of herself together, then I don't want to screw that up, so I choose my words carefully. "How are you feeling after Luna's visit?" I skirt by the fact that she was supposed to be meeting with Caleb.
"Thanks for letting her come see me," she says, sidestepping the issue right along with me. "Did she tell you what we talked about?"
I nod. Luna's story came out in pieces while I tended to her the other night. I wasn't surprised to learn she'd been at the same party or that the boys had gotten kicked out for getting into a fight over something stupid. All of it sounded like pretty normal teenage behavior to me—exactly the kinds of things that happened when we were in high school and were probably happening tonight.
Download


Copyright Disclaimer:
This site does not store any files on its server. We only index and link to content provided by other sites. Please contact the content providers to delete copyright contents if any and email us, we'll remove relevant links or contents immediately.