Consumed by Deception: A Dark Marriage Mafia Romance (Deception Trilogy Book 3) by Rina Kent
Author:Rina Kent [Kent, Rina] , Date: June 18, 2021 ,Views: 1119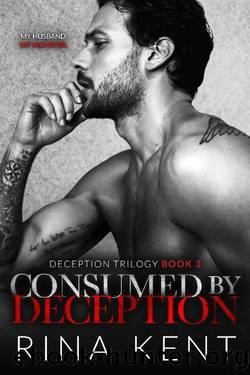 Author:Rina Kent [Kent, Rina]
Language: eng
Format: epub
Publisher: Blackthorn Books, LLC
Published: 2021-05-05T16:00:00+00:00



19
Adrian
Lia grabs on to me with her delicate fingers as I carry her to the bedroom.
I, on the other hand? I'm thinking of ways to punish and fuck her after she's kept me waiting all night long.
There's no way in hell I'm letting my guards near her in the future. This one time was enough. In fact, it's more than I would have preferred.
If it were up to me, she'd have no contact with them at all. A certain dark obsession takes hold of me whenever she talks, let alone smiles, at other men—even if they're my own guards. It provokes the beast inside me who's ready to come out and slaughter any man in her vicinity so that I'm the only one she ever gives her attention to.
I kick the wooden door shut behind me and Lia digs her tiny hands into my shirt, giggling as she squirms. Her cheeks are rosy and her eyelids have drooped from drinking. Another side of her that I don't want anyone else to witness.
She looks so beautiful, flushed and with the blue of her eyes softening. There's no trace of the sadness that seems to have haunted her life.
If anything, she appears a bit…mischievous. A trait that she rarely shows, if ever.
Lia has always been the soft, elegant type who keeps her emotions to herself. She said she hates my silent treatment, but she doesn't realize that she often uses the same tactic herself. In fact, she was the one who pulled away first and refused to let me in no matter how much I coaxed her.
She always used to see the worst in me, and as a response, I resorted to forceful methods in order to keep her. To some extent, it was because that's all I know, but I also did it because the thought of her leaving me turned me into a fucking beast.
But she hasn't seemed to have those thoughts about escaping since the day I found her at the park. Actually, she feels closer, especially since we came to Russia.
She was right. I brought her here as a twisted pay of homage to the trip I never got the chance to take with Aunt Annika. However, it turned out to be so much more for our family. Even if, deep down, I'm still torn apart about her infidelity.
Despite being naturally distrustful, a strong part of me believes she didn't cheat on me; however, there's also the wary part.
The part that was cut in half when she confirmed having a lover.
The part that believes this is all a sham and that, sooner or later, she'll go back to trying to escape.
That if given the choice, she won't look twice before she leaves.
I thought I'd gotten used to people leaving when I was a child. First Aunt Annika, then Mom, then my father. But the idea of Lia joining them strikes a completely different chord.
One that keeps me awake at night, racking my brain to find a solution.
"Let me down," she slurs.
Download


Copyright Disclaimer:
This site does not store any files on its server. We only index and link to content provided by other sites. Please contact the content providers to delete copyright contents if any and email us, we'll remove relevant links or contents immediately.