The Art of Rhetoric by Aristotle & Robin Waterfield & Harvey Yunis
Author:Aristotle & Robin Waterfield & Harvey Yunis [Aristotle & Waterfield, Robin & Yunis, Harvey] , Date: August 6, 2020 ,Views: 104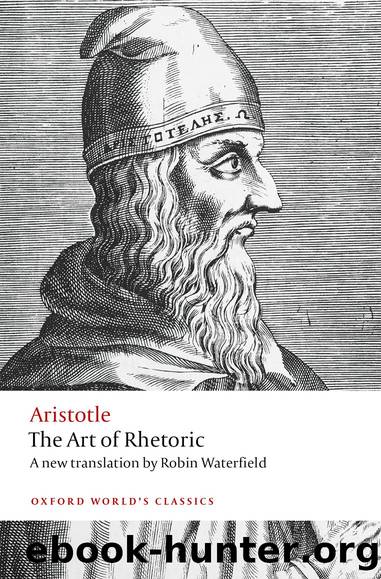 Author:Aristotle & Robin Waterfield & Harvey Yunis [Aristotle & Waterfield, Robin & Yunis, Harvey]
Language: eng
Format: epub
ISBN: 9780198724254
Publisher: OUP Oxford
Published: 2018-04-04T00:00:00+00:00



The conditions in which we feel confident are as follows:a25
• If we believe that we have often been successful without coming to any harm, or that we have always managed to escape unscathed from many brushes with danger. For there are two reasons why people are unafraid: either they are inexperienced or they have the necessary resources. Thus men in danger at sea face the future with confidence either if they have no experience of rough weather or if they are experienced enough to have means of coping.
• When no fear is felt by people like ourselves, or by our inferiors or those to whom we think ourselves superior. And we think this if we have defeated them, or defeated others who are just as strong as them or stronger.
• If we think we have more, and more effective, advantages of the kind that make their possessors frightening — or, in other words, if we have more money, soldiers, friends, and land, and all or the most important kinds of military equipment.
• If we have wronged no one, or not many people, or not people we fear.
• If we have been wronged and, in general, if we stand in good stead with the gods, and especially if we have the support of signs and oracles. For anger fills one with confidence, and it makes an innocent man angry to be wronged; and the gods are supposed to help those who have been wronged.
• When at the beginning of some undertaking we think either that we will come to no harm or that we will meet with success.
Download


Copyright Disclaimer:
This site does not store any files on its server. We only index and link to content provided by other sites. Please contact the content providers to delete copyright contents if any and email us, we'll remove relevant links or contents immediately.