Good Humor, Bad Taste: A Sociology of the Joke by Kuipers Giselinde
Author:Kuipers, Giselinde [Kuipers, Giselinde] , Date: June 8, 2015 ,Views: 2369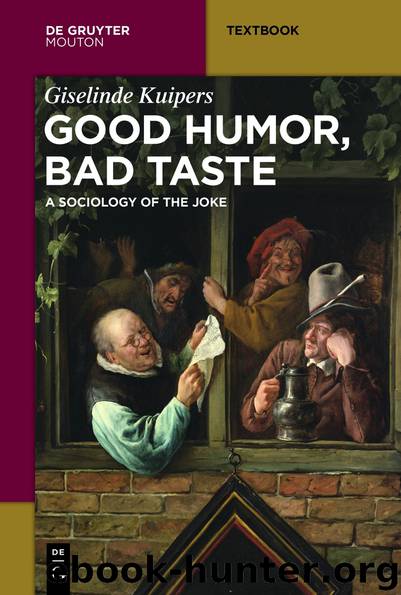 Author:Kuipers, Giselinde [Kuipers, Giselinde]
Language: eng
Format: epub
Publisher: De Gruyter
Published: 2015-03-17T16:00:00+00:00



Since the 1970s, sick jokes have reached unprecedented heights (Davies 1999; Dundes and Hauschild 1987; Oring 1992: 29-40). Every disaster is immediately followed by morbid jokes: famines in Biafra, Ethiopia and Somalia, airplane crashes in Surinam, Amsterdam, and Lockerbie, the arrest of the Belgian child molester Marc Dutroux, Lady Diana's accident, as well as the attacks on the World Trade Center in 2001 (Kuipers 2002, 2005). Often these jokes are recycled: jokes about the explosion of the Space Shuttle Challenger in 1986 were told again when Space Shuttle Columbia exploded in 2003. Also, some of these space shuttle jokes reemerged as jokes about the attacks on the World Trade Center.
Other events are longer lasting and more constant subjects of such morbid joke cycles: the persecution of the Jews in World War II, disabilities (blindness, deafness, deformities) and deadly sicknesses like AIDS or cancer. Two examples:
"Can Johnny come out and play baseball?" Johnny's mother: "But children, Johnny doesn't have any arms or legs." "Oh that's okay, we'll use him as a base!"
(1970s)
Download


Copyright Disclaimer:
This site does not store any files on its server. We only index and link to content provided by other sites. Please contact the content providers to delete copyright contents if any and email us, we'll remove relevant links or contents immediately.