Sue-Ellen Welfonder by of a Highland Devil mobi Sins
Author:of a Highland Devil mobi Sins [Sins, of a Highland Devil mobi] , Date: April 8, 2021 ,Views: 23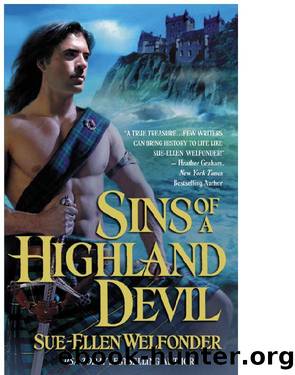 Author:of a Highland Devil mobi Sins [Sins, of a Highland Devil mobi]
Language: eng
Format: epub
Published: 0101-01-01T00:00:00+00:00



"Were my cook's honeyed bannocks no' enough to fill your belly this morn, or do you have a taste for fresh-off-the-griddle oatcakes?" James glanced at Alasdair, riding close beside him as they wound their way through the tents and cooking fires that covered every inch of ground between Castle Haven's curtain walls and the wood beyond.
"I do favor oatcakes." Alasdair kept his attention on a cook stall where a stout, red-faced woman shouted the tastiness of her griddled oatcakes.
James studied Alasdair's profile, noting the hard set of his jaw. Alasdair had hardly touched Cook's oatcakes, surely the finest in the land. A sudden fondness for them struck James as unlikely.
But he was curious.
Alasdair kept glancing at the traders' carts and food stalls set among the maze of colorful tents. His watchful eyes took in everything they passed. His gaze darted left and right, scanning the clusters of Lowlanders who filled the narrow spaces between the tenting or scurried about, some tending cooking pits, a few huddling near a supply wagon playing dice, while others hawked wares as if at a market fair.
An air of celebration hovered over the makeshift settlement, the jollity offensive, considering they'd gathered to witness men cut each other down.
Yet there was no disguising the festive mood.
And the deeper James and Alasdair led their party into the encampment, the more raucously their eyes, ears, and noses were assaulted by the revelry. The din was unceasing, a cacophony of voices, laughter, and shouting, spiced with the occasional barking of dogs or whinnying and snorts of horses. Smoke from the cook fires hung in the air, bringing the mouthwatering smell of roasting meat, while the steam rising from dozens of simmering cauldrons competed with the equally tempting aroma of well-seasoned stew.
Several tumblers and jugglers had drawn a crowd to their left, their antics reaping cheers. Closer by, a buxom young alewife with a quick laugh and merry eyes served ale from large earthen ewers to a handful of Lowland knights who appeared more interested in her boldly displayed charms than her frothy libations.
And—James noted with interest—all of them earned Alasdair's assessing stare.
Just now Alasdair slowed his garron to narrow his gaze on the red-cheeked, heavyset woman flipping oatcakes at her cook stall.
"We can stop if your belly's rumbling." James cast a look over his shoulder at the MacDonald men-at-arms riding in a tight column behind them. Catriona was wedged in the middle of them, a precaution insisted upon by her brother and one that—given the fierce glint in her eye—didn't suit her.
But as soon as she noticed James's stare, the annoyance vanished from her face and she assumed an air of ladylike calm, though she did lift an eyebrow at him. She did so quickly and subtly, before anyone else could see.
James let his own brows snap together, too irritated to care if she saw.
He saw more than he wished.
In the night, she'd taken his breath and his body. Here, in the open, and beneath the wild, roiling sky, she came near to capturing all of him.
Download


Copyright Disclaimer:
This site does not store any files on its server. We only index and link to content provided by other sites. Please contact the content providers to delete copyright contents if any and email us, we'll remove relevant links or contents immediately.