ST TOS - 009 - Triangle by Sondra Marshak & Myrna Culbreath
Author:Sondra Marshak & Myrna Culbreath [Marshak, Sondra & Culbreath, Myrna] , Date: April 9, 2021 ,Views: 22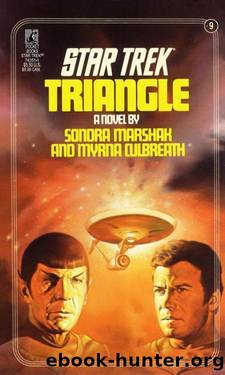 Author:Sondra Marshak & Myrna Culbreath [Marshak, Sondra & Culbreath, Myrna]
Language: eng
Format: epub
Tags: Performing Arts, History & Criticism, Space Opera, Television, General, Science Fiction, Fiction, Media Tie-In
ISBN: 9780671743512
Publisher: Star Trek
Published: 1983-01-02T08:00:00+00:00



Chapter 19
Sola set the scoutship down in the clearing where they had made their stand against the wolflings. She had no clear certainty that she could pick up a trail from there, but the tenuous sense of directional awareness which she felt at some subliminal level suggested that her quarry had been set down somewhere in that vicinity. One quarry, at least. She was not certain now which one.
The clearing was deserted. She stripped down to jungle hunt gear. In the hunt the skin became sensor and warning system, sometimes the channel of the directional sense. It must be bared to the last reasonable inch. Nor could she afford to use the sophisticated Federation protective devices which the scoutship carried. On second thought, she put one in a light pouch slung on her low belt. She took her recharged wrist coil, Spock's communicator and phaser, and a large and very forthright knife. There were times when nothing else would do.
She opened the doors of the scout, ran a few feet, leaped up to a low-hanging branch, and swung up into the lower terrace of tree-paths.
There was a sudden rush from the clearing's edge, and the pack of animals which must have been lying up, hoping for the return of their prey, snapped at the space she had just left.
She was pleased to see them. At least they had not picked up the track of her own quarry.
She quested for the direction now, moving through the lower terrace in a widening search-spiral. The interlocking life-tree branches were wide and easy at that level. She ran, jumped, swung by old reflex, without necessity of thought. This was virtually a sister-planet of Zaran, its evolution strikingly parallel, its hazards largely known to her—although she was aware that to push that assumption too far courted disaster. There would be differences, and they could be deadly.
Meanwhile, she could cover ground through the trees at least two or three times as fast as a man on the ground who had to cope with underbrush and all predators. Here only the great cats and one or two other rather unpleasant adversaries could come.
She hoped that Kirk would have had sense enough to follow her example and take to the trees. An active man could move here, if not with her skill, at least with somewhat better odds of survival than on the ground.
She performed the mental disciplines of the hunt, the focusing of all senses, physical and psionic. And at the end she permitted herself to acknowledge that this was matehunt. The commitment, once made, was irrevocable. It could end only with mating—or her death. But there was no choice. The directional signal would not work for anything less—might not work even so, given the briefness of contact and the division of heart she had permitted.
Still, there was no hesitation in her heart. She reached for the mate-signal; then she stopped and stood quite still. It was true, then. She was receiving two signals.
It was unknown in the history of Zaran, but there it was.
Download


Copyright Disclaimer:
This site does not store any files on its server. We only index and link to content provided by other sites. Please contact the content providers to delete copyright contents if any and email us, we'll remove relevant links or contents immediately.