Squirrel Hill by Mark Oppenheimer
Author:Mark Oppenheimer [Oppenheimer, Mark] , Date: October 14, 2021 ,Views: 82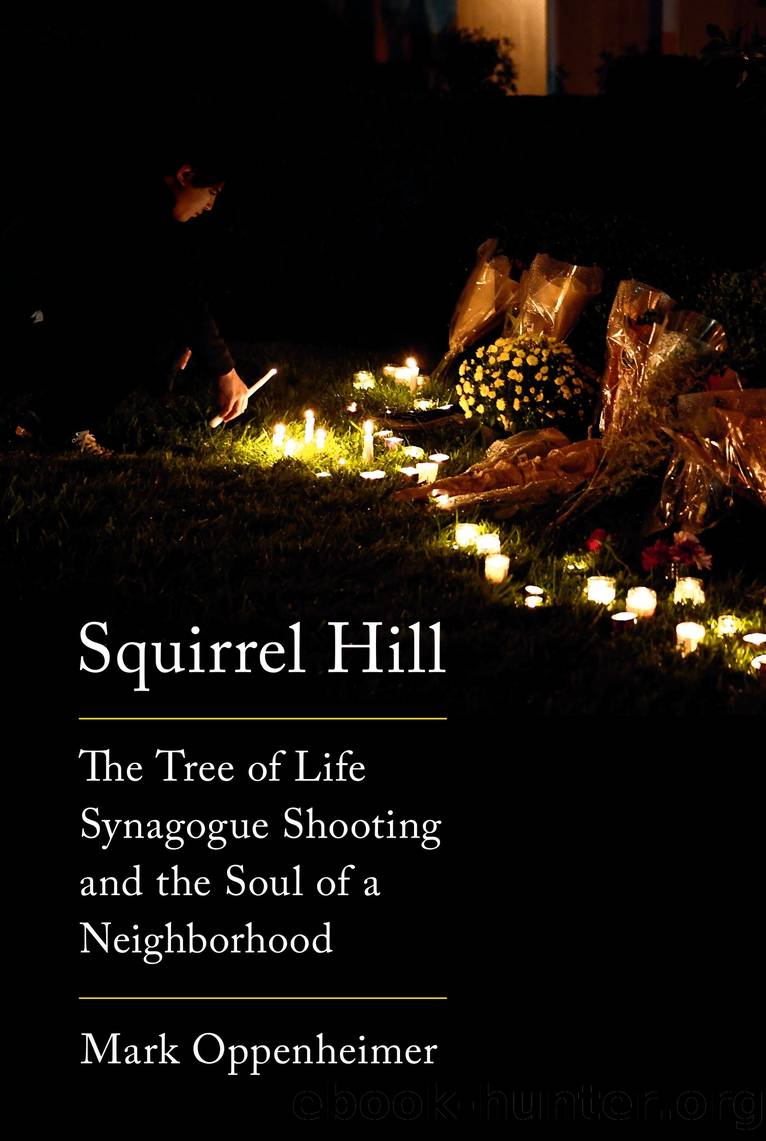 Author:Mark Oppenheimer [Oppenheimer, Mark]
Language: eng
Format: epub
Publisher: Knopf Doubleday Publishing Group
Published: 2021-10-05T00:00:00+00:00



* * *
Michele Halloran is white, she grew up in a mostly white town outside Pittsburgh, and her schools were nearly all white. They were entirely Gentile, too, at least as far as she was aware; looking back, she could not remember any Jews, but she also could not remember there not being Jews, because she wasn't looking for them. Her world was white and Christian (or lapsed Christian). "When I came to Allderdice, that was a huge cultural shock to me," she said. "For a lot of reasons."
Halloran had been teaching at Allderdice most of her career. She'd done a stint years ago, then gone to other schools, then returned to 'dice in 2010. In her years as a teacher, she had become an avid multiculturalist. She began teaching classes on Black history, and eventually she became the adviser to the Black Student Union; the 2018–19 school year was her fourth consecutive year with the club. "This all happened at a crazy time for me, in terms of those two populations intersecting at Allderdice," she said, referring to Blacks and Jews. The Monday after the shooting, Halloran found herself moderating a painful discussion among Black students about how much they should care about the murder of eleven Jews—but she had been thinking about Blacks and Jews, at Allderdice, well before that. "One of the things that comes up inevitably, every year, is most of the white kids are in the gifted-level classes, most of the Black kids are not, and how do we change that?" In her Advanced Placement classes, she got mostly white students, and a disproportionate number of them were Jewish. At the same time, as a teacher of African American studies, and as an adviser, at a school with almost no Black teachers—as of 2020, Allderdice had thirteen Black educators on staff, including counselors and assistant principals, but only two Black full-time classroom teachers—Halloran was, in a big way, the Black students' main advocate.
Monday morning, Halloran got the word that the shooting was not to be the main topic of conversation in class. "They didn't want us to really have conversations about it, for fear the teachers weren't experts in knowing how every kid in the room was going to react." Still, as an experienced teacher, one with close relationships with students of all races, Halloran felt comfortable, even compelled, to say a few words. "I took a couple of minutes at the beginning of each class to talk briefly about it. Even for me, the emotion of it was really raw." At one point, she realized that a couple years earlier she had taught the grandchild of one of the victims. "It was a blur trying to make it through that day."
Download


Copyright Disclaimer:
This site does not store any files on its server. We only index and link to content provided by other sites. Please contact the content providers to delete copyright contents if any and email us, we'll remove relevant links or contents immediately.