Spinoza by Steven Nadler
Author:Steven Nadler , Date: November 27, 2016 ,Views: 674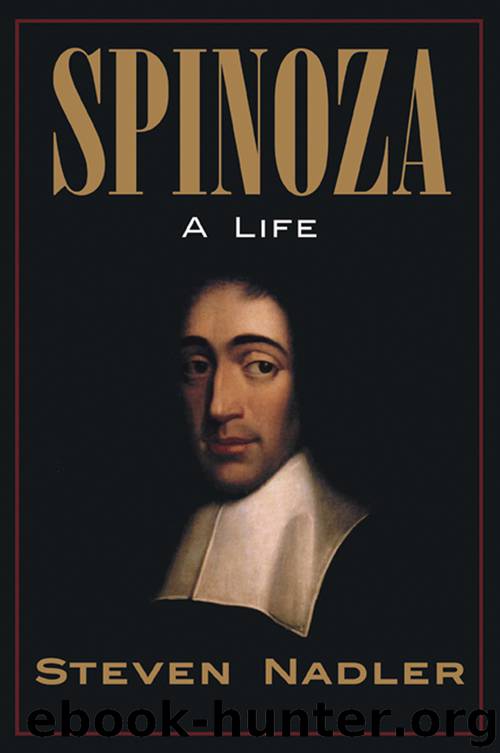 Author:Steven Nadler
Language: eng
Format: epub
Publisher: Cambridge University Press



9
"The Jew of Voorburg"
IN 1665, the village of Voorburg, just outside The Hague, was in the grip of a rancorous civil dispute over who would be the next pastor of the local church. In a petition composed by one party to the dispute written for the municipal government of Delft, within whose bailiwick Voorburg lay, mention is made of a Daniel Tydeman, in whose house lodged "a certain A[msterdammer?] Spinosa, born of Jewish parents, who is now (so it is said) an atheist, that is, a man who mocks all religions and is thus a pernicious element in this republic." The petitioners added that a number of learned individuals and preachers could attest to these facts.1
Tydeman was a master painter as well as a once and future soldier. He lived with his wife, Margarita Karels, in a house on the Kerkstraat (Church Street), probably near the center of town. They were members of the Reformed Church, but Tydeman seems to have had Collegiant proclivities.2 These appear, in fact, to have been responsible for his being on the losing side of the 1665 dispute. When Spinoza moved from Rijnsburg to Voorburg in the spring of 1663, it may have been at the recommendation of his own Collegiant friends that he chose to rent a room in Tydeman's house.
Voorburg was substantially larger than Rijnsburg but still small enough for the peace and quiet that Spinoza sought.3 It was no farther from The Hague than Rijnsburg was from Leiden – a couple of miles – so it too had the advantage of proximity to a major city and its social and intellectual resources. Colerus tells us that Spinoza had "a great many friends" in The Hague; and during his years in Voorburg he seems once again to have acquired a circle of admirers. "They were often in his company" – perhaps making the trip out to Voorburg as often as he traveled in to the city – "and took a great delight in hearing him discourse." When Spinoza later moved to The Hague itself, it was most likely at their instigation.4 The Huygens family owned a country estate in the vicinity ofVoorburg, which Constantijn Huygens – Christiaan's father, Descartes's friend, and, in an earlier time, secretary to the Stadholder Frederik Hendrik, who held court in The Hague – called "a village that knows no equal."5 After he and Christiaan Huygens became friends, probably around early 1665, Spinoza must have occasionally spent time at the property Hofwijk, a five-minute walk from Spinoza's house, when Huygens was not off on scientific business in London or Paris.
Through Tydeman, Spinoza seems not only to have entered local Voorburg society, and thus become involved in the controversy over the preachers, but also to have learned something of the fine arts. Colerus claimed to have had in his possession a portfolio of drawings made by Spinoza, which he says he acquired from his (and Spinoza's) landlord in The Hague, who was also a painter. The philosopher apparently had a
Download


Copyright Disclaimer:
This site does not store any files on its server. We only index and link to content provided by other sites. Please contact the content providers to delete copyright contents if any and email us, we'll remove relevant links or contents immediately.