Six Thinking Hats by Edward De Bono
Author:Edward De Bono , Date: December 22, 2017 ,Views: 1717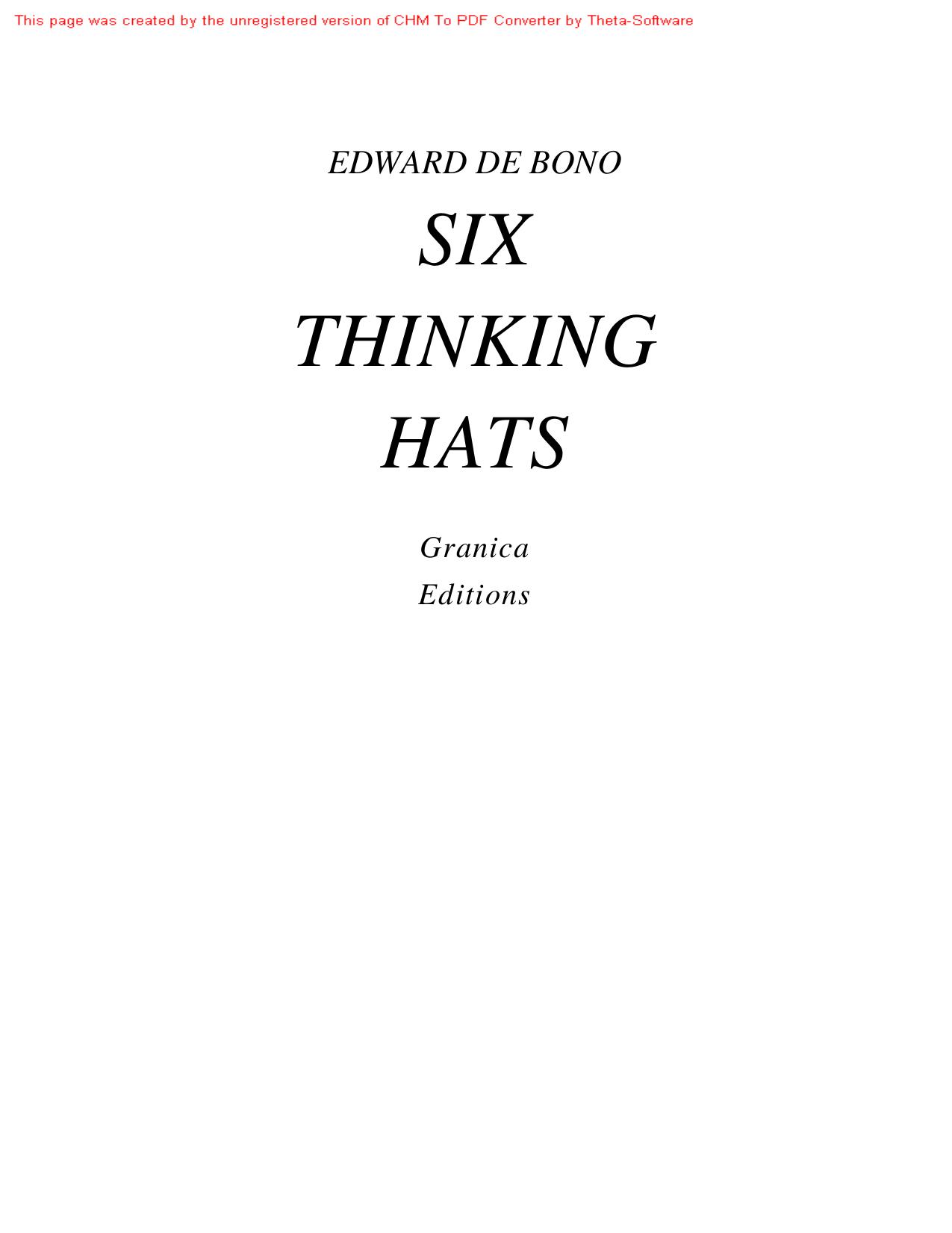 Author:Edward De Bono
Language: eng
Format: epub
ISBN: 9780241336878
Publisher: Penguin Books Ltd
Published: 2017-07-10T04:00:00+00:00



The Problem of Overuse
It is easy to be critical.
Some people enjoy being only critical.
The need to contribute.
As I indicated earlier, the black hat is an excellent hat. But like many excellent things, it can be overused and abused. Pasta is an excellent food but if you had pasta every day for every meal, you would not be so enthusiastic about pasta.
It is much easier to be critical than to be constructive. It is hard to design a chair. Criticizing a chair is much easier. If the chair is simple, then you criticize it as being old-fashioned or boring. If the chair is elaborate, then you criticize it as being vulgar or pretentious. By deliberately choosing a concept that is different from the one presented it is always possible to criticize – if you are so inclined.
There are people whose self-importance and self-image are based on their willingness to criticize. In a meeting, people want to be involved, to be noticed, to contribute, and the easiest sort of contribution is the 'Yes … but' type of contribution. If 95 per cent of the idea is excellent, the tendency is to focus on the less excellent 5 per cent. That is useful at the design stage because the faulty 5 per cent can be put right. It is less useful at the assessment stage when the excellent 95 per cent should be acknowledged.
Overuse of the black hat is not helpful. Sometimes it is simply ego-driven. Someone who is incapable of making any other sort of comment is limited to critical comments. Most often it is just habit. In the argument habit it is permissible to make negative comments at any point.
Once people get used to the Six Hats framework they often change out of the 'permanent caution' mode. They perform well under the black hat – but now they also perform well under the yellow hat and the green hat. They come to welcome this opportunity to show their ability in more modes than just one.
It is important to recognize the excellence and importance of the black hat and to refrain from overuse of the black hat.
Download


Copyright Disclaimer:
This site does not store any files on its server. We only index and link to content provided by other sites. Please contact the content providers to delete copyright contents if any and email us, we'll remove relevant links or contents immediately.