Sin by Kelly St Clare
Author:Kelly St Clare [Clare, Kelly St] , Date: July 18, 2018 ,Views: 3209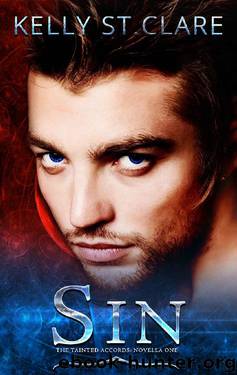 Author:Kelly St Clare [Clare, Kelly St]
Language: eng
Format: epub
Publisher: Kelly St. Clare
Published: 2017-01-14T06:00:00+00:00



CHAPTER TEN
Sin left Osolis the morning after his argument with Olorna, pilfering a Soar and passing on a message to Tatum Olandon, who would probably celebrate his departure. He'd gone straight to Tricks's barracks. His old friend welcomed him back without comment and granted Sin's request to re-enter the pits without delay.
The fighting pits. Why did he ever leave the Outer Rings?
Sin inhaled the stale smell of several hundred sweaty, unwashed, half-naked bodies and reveled in the familiarity of it. He realized after he'd left he had only stayed to make sure Olorna was safe. And she'd made it clear to him, while also ripping apart his personality, that she didn't wish him to stay. So fuck it all. Sin was back in Glacium after a three-day Soar ride through the Great Stairway.
Sin sauntered into the pit, topless, in leather pants, watching as Bruma of all classes screamed his name; half-naked females, splashing goblets. This was his home. He puffed his chest out and ambled around the arena as though he had not a care in the world. He winked suggestively and flexed his arms at a few ladies. These people loved him. He didn't need anyone else's approval.
He blew air kisses to the opponent entering the pits behind him. The wall of his screaming fans began their unified chant: his name. He smirked at his slight, chubby opponent and saw the man gulp.
The bell rang.
Something wasn't right, he knew, because he'd never felt such fury upon the bell ringing. But he did now—utter fury. His opponent backed up in fear and Sin closed the distance between them in seconds, drawing his right fist back.
The man threw up his guard in time to deflect the powerful blow, but his body turned with the force of it, opening up his defense to Sin's left jab.
The dull sound when Sin hit the man with all his strength really didn't do the hit justice. The man had already lost and knew it. But Sin couldn't stop. He'd act however the fuck he wanted to, and fuck everyone else.
He hammered the man senseless. Part of him knew he'd never gone this far. Even as the man was falling to the ground, Sin was on him with a final uppercut, and then, when his unconscious opponent hit the ground, he added a vicious kick to his side.
Sin stood, stumbling and grunting as he tried to catch his breath. Speckles of blood dotted his hands and forearms. He looked down and saw his chest was the same.
He raised his head to the crowd to find they'd gone silent.
No one in the crowd screamed at him to do filthy things to her.
None of the men regarded him with jealousy.
No one chanted his name.
Download


Copyright Disclaimer:
This site does not store any files on its server. We only index and link to content provided by other sites. Please contact the content providers to delete copyright contents if any and email us, we'll remove relevant links or contents immediately.