Silent Love by April Kelley
Author:April Kelley [Kelley, April] , Date: January 14, 2021 ,Views: 18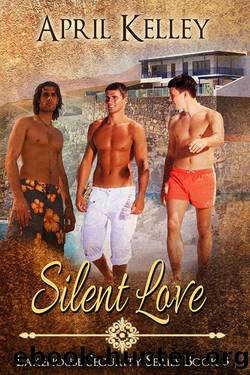 Author:April Kelley [Kelley, April]
Language: eng
Format: epub
Tags: Adult, Erotic Romance, GLBT, Gay, Contemporary
ISBN: 9781487404383
Publisher: eXtasy Books
Published: 2015-07-01T05:00:00+00:00



Chapter Five
Tripp made his way down the path to the beach. This was starting to become normal for him, and probably for Paulo too. It had been a month since Phillip Avery had been arrested and charged. It turned out that Avery had murdered several people, which was why Justin had taken so long to arrest him—he wanted to make sure those murder charges stuck.
In that time, Jacob had talked a lot more, but only to them, and spent most of his time down by the water. It was like everyone else stole his light or something. The biggest problem was that Jacob still pretty much refused to talk about his life down in that cell, and he wouldn't talk about his family at all, especially his mother, even with his therapist.
Doctor Marsha said that Jacob would talk about everything else, just not that.
Tripp stopped within a few feet of Paulo and Jacob. He heard Jacob's soft slightly feminine voice say something but he couldn't make out the words.
Paulo's deep voice answered. "I don't really live anywhere at the moment. I just got discharged from the military. Locke's the only family I have, so I guess I live wherever he's at." Paulo looked around, smiling. "This seems like a good place to stay."
Tripp took a step closer just to be able to hear more of their conversation. His footsteps must have made noise, because he noticed Jacob stiffen and Paulo turn around. Paulo said, "It's just Tripp." Paulo bumped shoulders with Jacob and Tripp noticed the wink he gave the smaller man, which Tripp thought was very cute.
Jacob relaxed and said, "I sometimes hear my mom yelling at me. I don't like it when that happens." Tripp sucked in a breath and held it, waiting to see what he would say next.
"What do you mean?" Paulo asked. Tripp came around and sat on the other side of Jacob. Tripp noticed that Jacob had his fingers laced with Paulo's.
Jacob took Tripp's hand in his free hand, lacing their fingers together even as he said, "I see her and I hear her. I don't want to talk about it. She might hear me and start yelling again."
"That's okay. You don't have to talk about it." Paulo looked at Tripp over Jacob's head with worry in his eyes. Tripp smiled at him, trying to give him some measure of comfort.
"I like it here. She's only been here a couple times since we got to this place." Jacob's voice was so soft when he spoke.
"I've always liked it here too. Even in the winter, when it gets really cold, it's always pretty." Tripp rubbed his thumb over the back of Jacob's hand and kept talking. "From my bedroom window, you can see the water. In the winter, I can see the big chunks of ice floating around. Although, sometimes it freezes solid."
"Will I be here in the winter, or am I going back to the prison?" Jacob asked him.
"You're never going back to that place again, Jake.
Download


Copyright Disclaimer:
This site does not store any files on its server. We only index and link to content provided by other sites. Please contact the content providers to delete copyright contents if any and email us, we'll remove relevant links or contents immediately.