Rogue by Katy Evans
Author:Katy Evans [Evans, Katy] , Date: July 22, 2021 ,Views: 62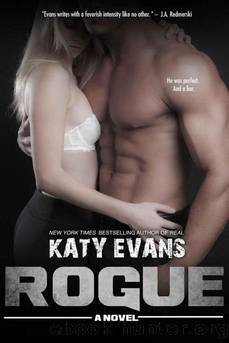 Author:Katy Evans [Evans, Katy]
Language: eng
Format: epub
ISBN: 9781476755618
Publisher: Gallery Books
Published: 2014-07-28T23:00:00+00:00



SIXTEEN
* * *
DEBTS
Melanie
We fucked before he left town.
Straight from my parents', he followed me to my apartment, up the elevator, to my door. I stood there, starting to say goodbye. He slammed my mouth to his, scooped me up, and took it from there to the bedroom.
He threw me to the bed and ripped my clothes off, then his. My body trembled and my breaths shuddered out of me as he dropped over me.
He held me down, one hand on my shoulder, the other on my hip, and fucked me hard. I screamed and twisted, raking my hands down his back.
"Look at me."
I tried, moaning.
He slid his hand up my back, under the fall of my hair and held me by the skull, tipping my face up. "Say you love it," he commanded. "Say you fucking love it."
"I love it," I moaned.
His mouth crashed down on me and he gave me the kiss of a lifetime, the fuck of a lifetime. When he peeled our mouths free he slowed his pace and said again, huskier, "Look at me," filling me to the hilt with hot, pulsing live flesh.
I looked and he looked back at me, greedy, strong, driving over and over inside me. Not holding back. Every move telling me he needed this as bad as me.
My climax took me over like a storm. With every shudder that passed through me, another, deeper one ran through him until we were both panting and undone. I clasped my thighs and arms tighter around him, holding his hard, heavy body to mine, keeping him a little longer inside me.
I didn't want to let go. My face was wet again from my orgasm but all of a sudden I felt like crying an ocean.
I'm afraid of what he makes me feel, and of the reality of my circumstances.
I'm afraid that I will owe all this money and have had no buyers for my Mustang, and when my time runs out three days after my birthday, a dozen angry mobsters will come knock on my door and nobody will be able to help me. Nobody will be able to stop them. Not even him.
I don't know what I'm going to do. I don't know what to do. But nobody makes me feel as emotionally vulnerable and as physically safe as he does when he holds me.
The fact that he came to brunch, unexpectedly, told me more than all his warnings have. He exhaled in my neck and rolled us to a more comfortable position, where he kept me to his side, and I felt strange emotions swamp me.
Don't be needy, I told myself, but I felt like an imposter. I still heard myself whisper, "Everything my parents said . . . don't believe it. They just think I'm perfect, but I fake it."
I eased away from him and clutched the sheet around me.
He sat up in bed. "I know about faking it."
"My life came at a very high price and it's just hard to live up to it.
Download


Copyright Disclaimer:
This site does not store any files on its server. We only index and link to content provided by other sites. Please contact the content providers to delete copyright contents if any and email us, we'll remove relevant links or contents immediately.