Preliminary Practice for Franz Bardon´s Initiation into Hermetics by del Sole Ray
Author:del Sole, Ray , Date: January 14, 2022 ,Views: 121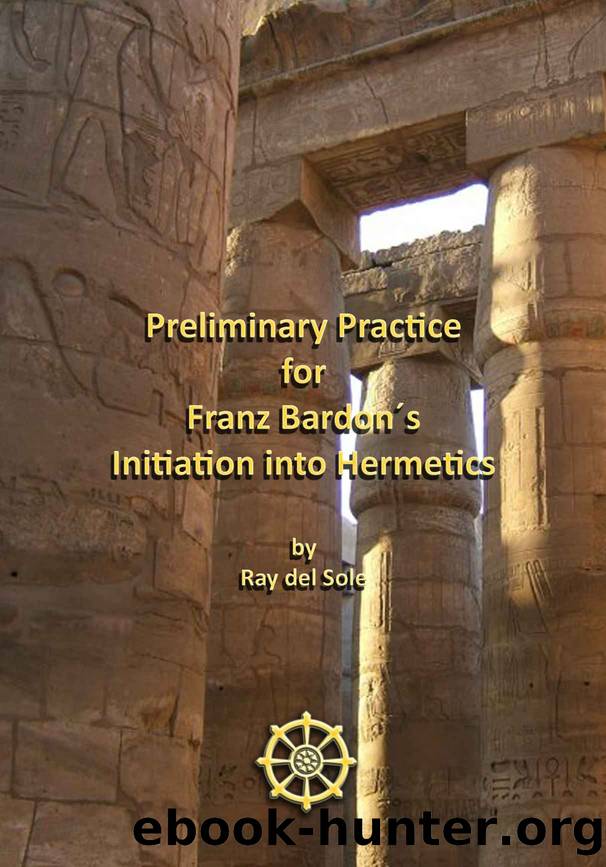 Author:del Sole, Ray
Language: eng
Format: epub
Publisher: Ray del Sole
Published: 2010-05-28T00:00:00+00:00



Task 9: Improvement of your intuitive feeling
This point is not a must in the preliminary practice. It is more a matter of the degree of perfection you want to reach in your spiritual preparation. So if you have enough time to integrate the following exercise then do it for your benefit and in respect for the law of perfection. If your time is limited then you can leave it for special training later on the path.
The exercise deals with the Soma chakra – moon chakra which is the highest center of the water element. You find it a little bit above the forehead chakra at the hairline. The training with the Soma chakra strengthens and refines your water element, your intuitive feeling, also your ability of concentration as it balances the fire element. Perfect concentration has two aspects – fire and water element.
The exercise uses the same principles like the previous exercises. When you integrate this technique then do the training in this sequence:
1. Fire – will
2. Air – visionary intuition
3. Water – intuitive feeling
4. Earth – higher consciousness, divine guidance (Task 10)
This sequence leads to God, to your divine nature. It is the sequence of refinement, of lifting you up. You can start also the sequence with earth (4) ending with fire (1). This sequence strengthens you in your "here and now consciousness". So indeed the choice of sequence depends on the state of awareness you want to be after the exercise.
In general I recommend to do all four exercise one after the other as long as the training time is low – for example when you practice 3 – 15 minutes per chakra. If you increase the training time over 15 minutes then integrate a bigger break between the exercises two and three. For example the first two exercises in the morning and the last two exercises in the evening or two on one day and the next two on the next day. The aim should be to keep the training time at a maximum level of 30 - 45 - 60 minutes. Half an hour is already much. One hour is really much. You have to keep your health and your balance. Too much is often unhealthy. The increase of training time must be done very smooth so that your microcosm, your energetic system is able to adjust itself to the new level of activity and power.
Download


Copyright Disclaimer:
This site does not store any files on its server. We only index and link to content provided by other sites. Please contact the content providers to delete copyright contents if any and email us, we'll remove relevant links or contents immediately.