Peace with God by Billy Graham
Author:Billy Graham , Date: February 6, 2018 ,Views: 1132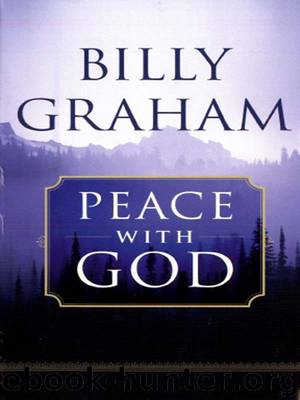 Author:Billy Graham
Language: eng
Format: epub
Tags: ebook, book
Publisher: Thomas Nelson Inc.
Published: 2010-10-04T04:00:00+00:00



A Case of Conversion
I remember so vividly a young New-York career girl who came out to Los Angeles to be married. She and her fiance had met when they were both working in a high-powered New-York advertising agency, and their courtship had been conducted against a background of cocktail parties and night clubs. Filled with ambition and "on his way up," he had himself transferred to the California office, with the understanding that the girl would follow him in six months and they would be married.
About a week after she had arrived in Los Angeles, expecting to take up a joyous new life, she discovered that the man had fallen in love with a movie starlet and lacked the courage to write her about it before she left New York!
Here she was, alone in a city where she knew no one—all her plans in ruins, her pride crushed, and the future stretching ahead, bleak and empty. Her family had not been religious, and in this hour of extreme need she knew of nowhere to turn for comfort, advice, or guidance.
As she walked along the unfamiliar streets, trying to overcome her shock and humiliation, she came upon the "canvas cathedral" in which we were conducting our crusade. She said she was never sure what made her come inside, but she did, and sat glumly through the entire service. The next night she came again, and every night for the whole week, until through the cloud of bitterness and misery that surrounded her, God made His voice heard, and she came forward to confess her need of salvation.
With the burden of guilt and rejection lifted from her through faith in the Lord Jesus Christ, she came to see that the love she had lost was but a stepping stone to a far greater and much richer love. The sense of humiliation that prevented her from returning to her former New-York job vanished, and rather than life being finished, she found upon her return that it was fuller than ever. Only instead of wasting her brains and organizational ability on an endless round of cocktail parties, she became extremely active walking with God and serving others.
The imagination she formerly devoted to entertaining the "office crowd" now goes into making Bible stories come alive for the young people. Her training as a fund-raiser is now being put to good use in the service of the Lord, and her minister says her ideas have been invaluable in increasing regular church attendance. Far from being rejected and unwanted, she is sought after constantly by her fellow church members. But, most important of all, her sense of loneliness has vanished, for she knows now that Jesus Christ is ever by her side, ready to comfort, to guide, and to protect her.
All this had come as a result of her conversion—her turning away from the bleak, empty, worldly road she was traveling so unhappily—to her Lord and Savior, Jesus Christ! She had found peace with God.
* From Surprised by Joy: The Shape of My Early Life, copyright 1966 by Harcourt, Brace, Jovanovich, pp.
Download


Copyright Disclaimer:
This site does not store any files on its server. We only index and link to content provided by other sites. Please contact the content providers to delete copyright contents if any and email us, we'll remove relevant links or contents immediately.