One Time, Badly by Allyson Souza
Author:Allyson Souza [Souza, Allyson] , Date: April 6, 2021 ,Views: 33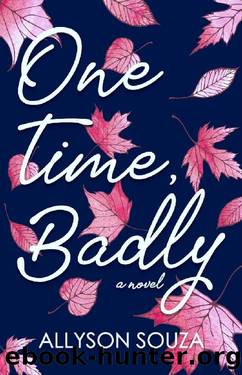 Author:Allyson Souza [Souza, Allyson]
Language: eng
Format: epub
Published: 2020-03-22T05:00:00+00:00



Chapter 13
2015
May
Cecelia walked to her desk on Monday morning with a smile, fresh iced coffee in hand. She waved to coworkers she'd seen just last week as if she hadn't seem them in years, the gratitude she felt at finally being out of her cramped apartment rushing through her. The sadness and anxiety of the past few days had taken flight for the moment, leaving her room to breathe, free from checking pulses and listening at doors.
Max had gone back to his parents' house, telling them great tales of the awful flu that had taken both he and Cee down, she was sure. She wasn't foolish enough to think they were completely out of the woods yet, she felt confident that the hardest part of this whole process was behind them. At least for her. It was up to Max now to keep his demons at bay. Cecelia shook that thought from her mind. That was a worry for later, right now she was a normal girl, opening emails and sipping on a coffee, passing the hours until she could clock out for the day.
Lou had called and asked her to grab a drink after work and she'd happily agreed. She'd never needed her friend more and even if she couldn't tell her about the week she'd just had, being near Lou was sure to make her feel the same comfort that she always felt just from catching up and having a laugh.
It's so difficult to put into words all of the ways that your friends end up saving you. How their successes have spurred your successes, how their positivity has helped you to maintain your own, how they're kindness has made you kinder. It's such a potent admiration, and one Cecelia wholeheartedly hoped was returned.
Since it was a nice night, they'd opted for a drink on the pier in Hoboken. It was a quick drive from Cee's apartment, though they'd decided to Uber after taking the PATH in from the city, and they'd both agreed that they'd rather get out of the city after work rather than combat the happy hour crowd in midtown.
As they carried their bucket of sangria over to two open beach chairs, Cee couldn't help but notice that Lou seemed extra excited about something. Luckily for Cecelia, Lou was as excited to get to the point as Cee was curious to hear it.
"So, I have something fun to tell you," Lou lead in.
"I can see that. Spill!"
"I hope you're ready for a new roommate because I just got promoted," and it was hands down the best thing Lou could've said that day.
"YES!" Cecelia jumped out of her chair, nearly spilling her cup of sangria, and gave Lou a bone-crushing hug. "I'm so happy for you! Six months and you're already killing it! This is so awesome!"
"I know, right? I was so surprised, but I really have been working my ass off. It just feels nice that someone noticed," Lou was beaming.
"You have no idea, Lou.
Download


Copyright Disclaimer:
This site does not store any files on its server. We only index and link to content provided by other sites. Please contact the content providers to delete copyright contents if any and email us, we'll remove relevant links or contents immediately.