Miss Lydia Fairbanks and the Losers Club by E. Reltso
Author:E. Reltso , Date: August 2, 2020 ,Views: 10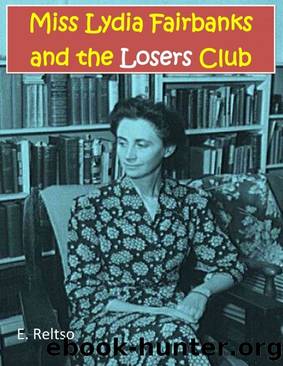 Author:E. Reltso
Language: eng
Format: mobi, epub
Tags: teaching love caring kindness violence drinking alcohol service creativity respect values judging responsibility



"Don't they have classes here?" she asked.
"Yeah, a few," said Brent. "But there's no teachers as good as you." Miss Fairbanks ears started to turn pink. "Thank you, Brent," she said. "That's nice of you to say. I miss having you in class, and in our little gatherings after school. Some new kids have started coming."
"Really?" asked Brent. "Did you finally decorate that ugly classroom?"
"Jerry put up a picture of Scooby Doo today!" said Miss Fairbanks with a smile. "And Ella put up a picture of Garfield, and another one of Snoopy."
"Ella?" asked Brent curiously.
"A new girl," said Miss Fairbanks. "She likes to doodle. And she's very good at it too. I wish you'd make a picture for me. I'd love to have one of yours up in my room."
"Aw, I'm not very good at art," said Brent with a shrug. "Everything I draw looks like a dead bug."
"I'm sure that's not true," said Miss Fairbanks. "I'd sure like it if you made me one. I'd like one from everyone who comes after school. Perhaps I'll even write and ask for one from scar face."
"Scar face!" said Brent in amazement. "Did he come after school too?"
"Yes, he did, earlier today," said Miss Fairbanks with a sad smile.
"Did he pound people like normal?"
"No," she answered in a small voice. "His mother died. Now he's gone to live in New Jersey."
"Oh," said Brent quietly.
The door suddenly opened, and the same bald doctor looked in at her. "Time to go," he said simply. "Sorry for such a short visit, but we try to stick to strict routines here."
Miss Fairbanks stood, reaching out to shake Brent's hand. "Please draw me a picture," she said pleadingly. "For my collection. Any comic character you want."
"Sure," shrugged Brent. "But when will I get it to you?"
"Tomorrow, naturally," she answered. Both Brent and the bald man raised their eyebrows in surprise. "What are you looking at me like that for?" asked Miss Fairbanks, gazing from one to the other. "I intend to visit every day!"
"Are you quite all right, madam?" asked the balding man, unable to believe his ears. Miss Fairbanks scowled, but chose to ignore him.
"Won't that take you away from your family?" asked Brent.
Miss Fairbanks just gazed at him blankly. "You are my family," she said simply.
Download


Copyright Disclaimer:
This site does not store any files on its server. We only index and link to content provided by other sites. Please contact the content providers to delete copyright contents if any and email us, we'll remove relevant links or contents immediately.